'Rohingya not a security threat': Activist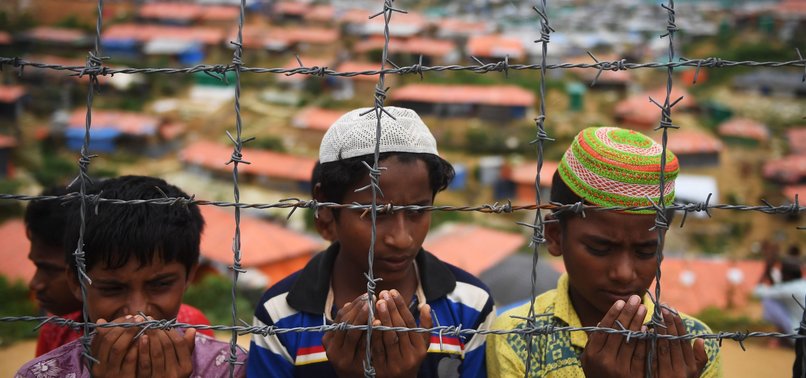 Bangladesh should not consider Rohingya refugees who fled genocide in Myanmar a security threat, a rights activist said Thursday.
"The Rohingya have no place other than Bangladesh to take refuge," Nay San Lwin, campaign coordinator of Free Rohingya Coalition, told Anadolu Agency.
His comments come after media reports revealed that Bangladesh army, which provides security in refugee camps in southern Cox's Bazar district, suggested the government in a comprehensive report to build barbed wire fence around the camps to limit refugee movements.
Cox's Bazar is home to around 1 million Rohingya who fled military crackdown in Myanmar's northern Rakhine state since early 70s.
The military report was discussed at a meeting of the Parliamentary Committee on National Defense on Wednesday.
Bangladesh government has been increasing security measures in the camps in a move to take tougher actions to prohibit free movement of Rohingya outside the densely populated camps.
In the report, the military voiced concern that Rohingya could leave the camp and spread to different parts of the country due to the absence of wired fence in the area and they can be used by international terrorist organizations.
However, the representative of Rohingya rights group stated that Bangladesh government "should not consider us as security threats".
"The camp with wire fence is like a concentration camp," he added.
"Bangladesh should recognize Rohingya survivors as refugees and give them rights to work and study instead of banning mobile services, restricting movement," Lwin said, referring to a recent ban on selling mobile SIM cards to Rohingya and providing mobile network in the camp area by the official communication regulatory authority.
"Bangladesh can change our fate by putting very strong pressure on Myanmar if there is a will," he added.
Persecuted people
The Rohingya, described by the UN as the world's most persecuted people, have faced heightened fears of attack since dozens were killed in communal violence in 2012.
According to Amnesty International, more than 750,000 Rohingya refugees, mostly women and children, have fled Myanmar and crossed into Bangladesh after Myanmar forces launched a crackdown on the minority Muslim community in August 2017, pushing the number of persecuted people in Bangladesh above 1.2 million.
Since Aug. 25, 2017, nearly 24,000 Rohingya Muslims have been killed by Myanmar's state forces, according to a report by the Ontario International Development Agency (OIDA).
More than 34,000 Rohingya were also thrown into fires, while over 114,000 others were beaten, said the OIDA report, titled "Forced Migration of Rohingya: The Untold Experience."
Some 18,000 Rohingya women and girls were raped by Myanmar's army and police and over 115,000 Rohingya homes were burned down and 113,000 others vandalized, it added.