Indian army claim arresting 2 Pakistanis in Kashmir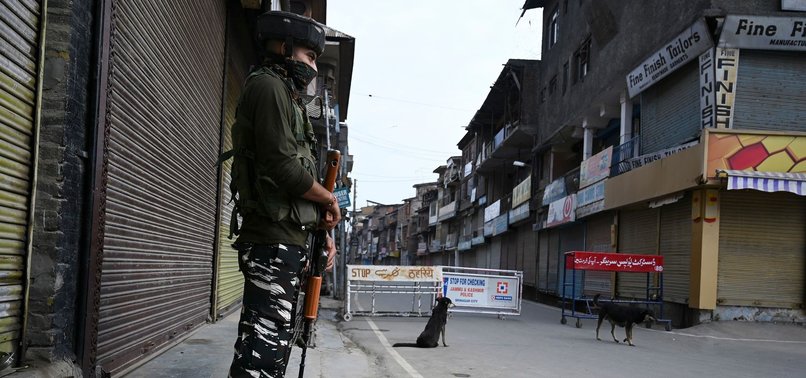 The Indian Army on Wednesday claimed that they have arrested two Pakistan nationals, along the Line of Control (LoC), while these two men had gone missing Aug. 21, while working on their fields.
"Two Pakistani citizens, who belong to proscribed terrorist outfit LeT [Lashkar-e-Taiba], were apprehended by Indian army," Lt. Gen. KJS Dhillon said at a news conference in Srinagar, the summer capital of Indian-administered Jammu and Kashmir.
However, a police official in Pakistani-administered Kashmir said they had registered a First Information Report (FIR) on Aug. 21, about the missing of two persons near the LoC, a de facto border dividing Jammu and Kashmir between Pakistan and India.
Families of the missing men -- identified as Mohammad Nazeem, 22, and Khalil Ahmad, 31 -- reported to the police that the men had gone missing from Haveli district on Aug. 21, when they were working in their fields, Raja Jamil, a local police officer of Khurshid Abad told Anadolu Agency over the phone.
"We have registered the missing report of both young man and informed the concern high official on the same day," Jamil added.
Azeem was resident of Hallan while Khalil was living in Tenda Ban area of Haveli district, located near the LoC, according to the police officer.
"We have no exact information, however, their parents claimed that both young men were picked up by the Indian soldiers," Jamil said.
He said police are still searching for them.
He noted that the area from where both Kashmiris went missing have no fencing and Indian security check posts are located near to the Pakistani villages.
The Indian army commander labeled them as "terrorists", claiming that "Pakistan is desperate to infiltrate maximum terrorists into Kashmir valley to disrupt peace."
He said in one such attempt on Aug 21, we have apprehended two Pakistani nationals.
The army played two confessional videos of the two men, who were identified by the Indian military as Mohammad Khalil and Mohammad Nazim.
According to army commander Dhillon, the launch pads across the Line of Control are full of terrorists.
"Pakistan is attempting every night and day in assistance with Pakistani army posts, which are there along the Line of Control," he said.
Tensions across the LoC heightened in recent weeks after the Indian government scrapped the special status of Jammu and Kashmir on Aug. 5.
Since then, the Muslim-majority region has been under a near-complete lockdown as the government has blocked communication and imposed strict restrictions to thwart any rebellion, while political leaders in the region have been detained.
Several rights group including Human Rights Watch and Amnesty International have repeatedly called on New Delhi to lift the restrictions and release political detainees.
However, Indian authorities have claimed this week that 90% of the disputed region of Jammu and Kashmir is free of daytime restrictions.
From 1954 until this Aug. 5, Jammu and Kashmir had special provisions under which it enacted its own laws. The provisions also protected the region's citizenship law, which barred outsiders from settling in and owning land in the territory.
India and Pakistan both hold Kashmir in parts and claim it in full. China also controls part of the contested region, but it is India and Pakistan who have fought two wars over Kashmir.