Inaction over Kashmir will lead to military strife: Pakistani PM Khan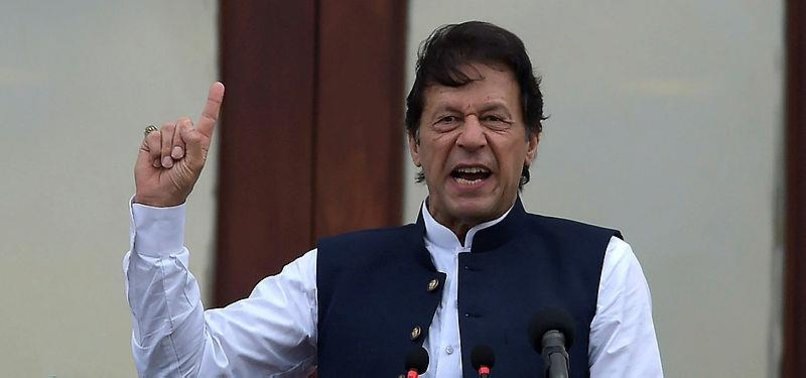 Pakistani Prime Minister Imran Khan has warned that if the world does nothing, to stop India's decisions on Kashmir, the two South Asian nuclear-armed countries will get ever closer to a "direct military confrontation."
In an opinion piece in The New York Times on Thursday, Khan also stipulated terms for the resumption of dialogue with India.
He said the talks can happen only if New Delhi "reverses" its illegal annexation of Jammu and Kashmir, ends the curfew and lockdown, and withdraws its troops to the barracks.
Pakistani Foreign Minister Shah Mehmood Qureshi also reiterated these conditions in a separate interview.
He said Pakistan could hold talks with India over the issue of Kashmir if New Delhi meets certain conditions, including allowing him to meet with the Kashmiri leadership.
As the world leaders call both countries to engage in discussions to deescalate tensions in the region, Qureshi said Pakistan had no objection to holding bilateral talks with India.
He said his country would also welcome mediation by a third party.
"I will have to assess their [Kashmiri leaders'] emotions. [We] cannot come to the table for talks by trampling the sentiments of Kashmiris," he said.
Earlier, Pakistani Prime Minister wrote that Indian government's Aug. 5 decisions on Kashmir were illegal and violative of the UN Security Council resolutions and also the bilateral Shimla agreement.
"Mr. Modi's New India chose to do this by imposing a military curfew in Kashmir, imprisoning its population in their homes and cutting off their phone, internet and television connections, rendering them without news of the world or their loved ones" said Khan.
He added that the siege was followed by a purge, arresting of thousands of Kashmiris and throwing them in far off prisons across India.
Pakistani prime minister feared a blood bath in Kashmir, when the curfew will be lifted.
He said already Kashmiris, coming out in defiance of the curfew are being shot and killed.
"With the nuclear shadow hovering over South Asia, we realize that Pakistan and India have to move out of a zero-sum mind-set to begin dialogue on Kashmir, various strategic matters and trade," Khan suggested.
He asked the international community to take a stand against India's actions and think beyond trade and business interests.
"World War II happened because of appeasement at Munich. A similar threat looms over the world again, but this time under the nuclear shadow", Khan warned.
Already tensions are mounting between the nuclear-armed Pakistan and India.
India, in August, removed all special provisions granted to Jammu and Kashmir under Article 370 of Indian Constitution.
It also divided the erstwhile province into two centrally administered "union territories" and took away powers from the assembly.
Jammu and Kashmir is under near-complete lockdown since Aug. 5 after India scrapped the special provisions, according to several rights group, including the Human Rights Watch and Amnesty International.
India has blocked communication and imposed strict restrictions to thwart any rebellion while political leaders in the region have been detained as the right groups repeatedly called on New Delhi to lift the restrictions and release political detainees.
From 1954 until Aug. 5, 2019, Jammu and Kashmir had special provisions under which it enacted its own laws. The provisions also protected the region's citizenship law, which barred outsiders from settling in and owning land in the territory.
India and Pakistan both hold Kashmir in parts and claim it in full. China also controls part of the contested region, but it is India and Pakistan who have fought two wars over Kashmir.