Imran Khan bats for Kashmiris' religious rights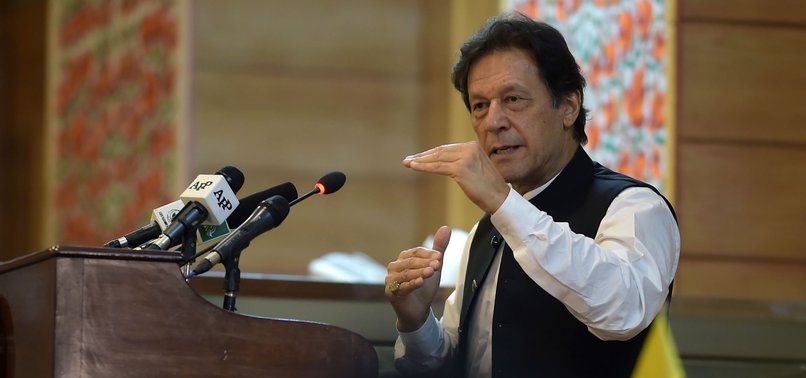 Pakistan's premier on Thursday sought the attention of the international community towards "brutal" conditions in Jammu and Kashmir.
On first International Day for Victims of Violence based on Religion or Belief, Imran Khan said Kashmiris were living under "abuse & violence, deprived of all fundamental rights & freedoms."
Muslim-majority Jammu and Kashmir is facing ongoing complete lockdown since Aug. 5 when India stripped the disputed region of special provisions guaranteed by the Indian Constitution.
"The Indian Occupation Forces have even denied them their right to observe their religious practices, including Eid ul Azha [Muslim holiday Eid al-Adha]," Khan said commemorating the UN-mandated day to recognize that violence against people based on their faith is a serious and growing problem.
The Indian government has enforced complete communications blackout on the region and restrictions are in place to thwart any demonstration.
"As the world shows solidarity for victims of violence based on religion & belief, it must also move to prevent an impending genocide of Kashmiris in IOK [Indian occupied Kashmir]," he said on Twitter.
The rise of violence against religious communities triggered a joint draft from Poland, Brazil, Canada, Egypt, Iraq, Jordan, Nigeria, Pakistan and the U.S. earlier this year in the UN to commemorate victims on Aug. 22. The draft was later adopted by the UN General Assembly.
UN Secretary General Antonio Guterres said on Twitter that the world has "seen a rise in attacks against people targeted because of their religion or belief."
"The world must step up to stamp out anti-Semitism, anti-Muslim hatred, the persecution of Christians and other religious groups," he said, adding: "We all have a responsibility to look out for each other."
Jammu and Kashmir, a disputed region
From 1954 until Aug. 5, Jammu and Kashmir had special provisions under which it enacted its own laws. The provisions also protected the region's citizenship law, which prohibited outsiders from settling in and owning land in the territory.
India and Pakistan both hold Kashmir in parts and claim it in full. China also controls part of the contested region, but it is India and Pakistan who have fought two wars over Kashmir.
Some Kashmiri groups in Jammu and Kashmir have been fighting against Indian rule for independence or for unification with neighboring Pakistan.
According to several human rights groups, thousands of people have been killed in the conflict in the region since 1989.