Merkel, Orban optimistic on new EU migration policy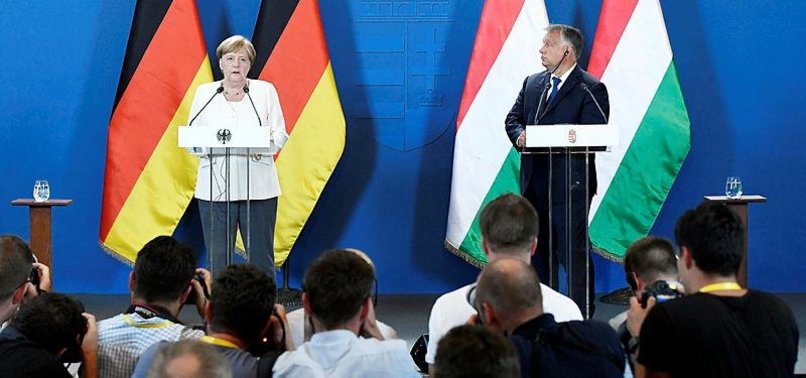 German Chancellor Angela Merkel and Hungarian Prime Minister Viktor Orban on Monday sought to play down their differences on the refugee crisis and expressed support for a common EU migration policy.
Speaking at a joint news conference following their meeting in the Hungarian city of Sopron, Merkel underlined that incoming EU Commission President Ursula von der Leyen has already begun talks with member states for "a fresh start" on migration.
"There is a lot of common ground when we talk about fighting the root causes of migration, or development aid for Africa," Merkel said, praising the 2016 EU-Turkey refugee agreement to stop irregular migration through the Aegean Sea.
Merkel argued that similar agreements with transit countries could stem irregular migration flows and enhance cooperation to fight migrant smuggling.
She also acknowledged differences among the EU's 28 member states on how to share the burden of incoming asylum seekers.
"There are differences, this is important. But in order to solve fundamental problems, we have to start with issues where we share common positions, and try to overcome differences," she said.
Orban, a vocal critic of Merkel's 2015 decision to take an open-door policy on refugees, appeared open to discuss recent proposals for a common EU migration policy.
"I share the optimism of the chancellor when she says that the future president of the commission is offering a chance for us," Orban said, adding that he recently met with von der Leyen.
"I can see now that instead of these old conflicts, discussions can actually set out and begin in a new atmosphere. And this is very encouraging," he added.
Von der Leyen, due to take office on Nov. 1, said earlier this month that she would propose EU members adopt a new pact for migration and asylum.
The EU's 28 members are deeply divided on migration and asylum policies, and many member states oppose taking in migrants and refugees from Italy or Greece, where authorities say they are overwhelmed by the inflow of people.