Pakistan's Khan hardens tone against India over Kashmir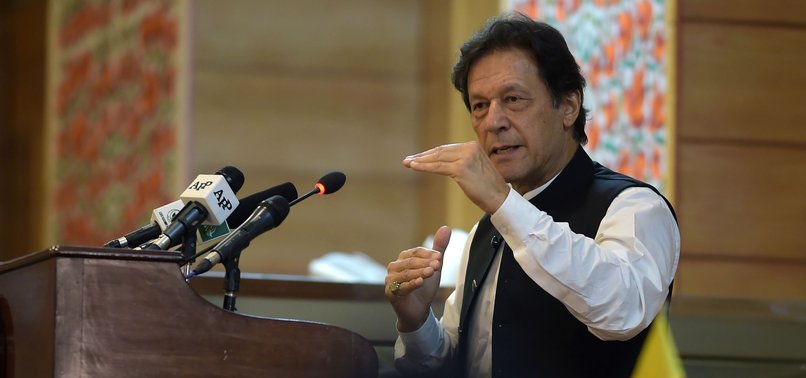 Pakistan's Prime Minister Imran Khan again took to Twitter on Friday to predict the failure of all "fascist" tactics by the Indian government to "smother the Kashmiris' liberation struggle."
His fiery denunciation came hours before a UN Security Council session to discuss the deteriorating situation after India stripped the Himalayan region of Jammu and Kashmir last week.
"The fascist, Hindu Supremacist [Narendra] Modi Govt should know that while armies, militants & terrorists can be defeated by superior forces; history tells us that when a nation unites in a freedom struggle & does not fear death, no force can stop it from achieving its goal," Khan said in a series of tweets.
"That is why the Hindutva exclusivist creed of the Modi-led Govt with its fascist tactics in IOK [Indian-occupied Kashmir] will fail miserably in its attempt to smother the Kashmiri liberation struggle," he added.
Mounting tensions between nuclear-armed Pakistan and India flared up further following the scrapping of the special status of the picturesque valley, which is divided between the two neighbors in parts with both claiming it in full.
Kashmiri leaders and citizens fear the Indian government's step is an attempt to change the demographic makeup of the Muslim-majority state, where some groups have been fighting against Indian rule for independence, or for unification with neighboring Pakistan.
Balking at New Delhi's move, Pakistan has also downgraded bilateral relations, suspended trade, and expelled the Indian high commissioners.
Since they were partitioned in 1947, Pakistan and India have fought three wars -- in 1948, 1965 and 1971 -- two of them over Kashmir, in addition to the three-week long Kargil skirmish in 1999.
According to several human rights groups, thousands of people have been killed in the conflict in the region since 1989.