45 killed in prolonged rain, floods in eastern India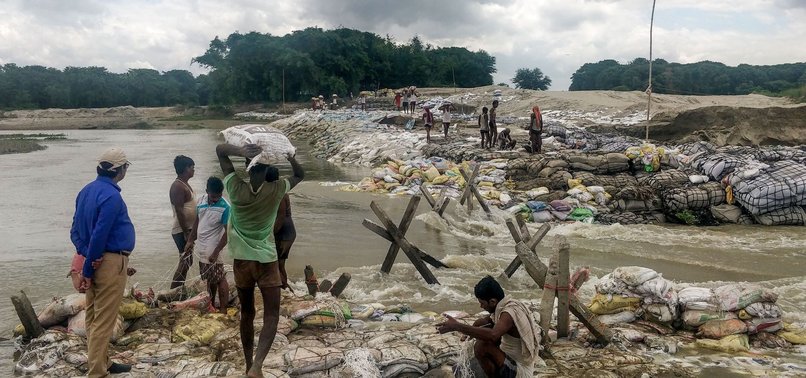 More than 45 people lost their lives in eastern and northeastern Indian states in the past week amid floods and landslides due to continuous rains, local media reported Monday.
With around 7 million people affected by flooding across the country, at least 25 died in Bihar and 15 in Assam in the northeast. Some reports of deaths due to landslides also came from Arunachal Pradesh and Mizoram in the northeast throughout the week.
Indian Army and National Disaster Response Force (NDRF) personnel are providing relief in the region.
NDRF Director General Satya N Pradhan, said forces were in the process of evacuating residents across flood-affected districts of Assam and Bihar.
"It's being done in war-footing. It [NDRF] will continue to tirelessly serve stranded citizens in these areas. We have put especial efforts on women and children in these affected areas," Pradhan said in Twitter.
A report from the state's disaster management authority said that in Assam alone, at least 4.3 million people were affected by the flood.
The report noted that presently, 183 relief camps were serving 83,180 flood victims along with 311 relief distribution centers. Water levels in most the rivers including the Brahmaputra, the largest in the state, were above the danger limit in various areas.
"It's getting very difficult to survive. We have just reached the state highway and hoisted a makeshift tent for the night to stay," Anuwar Ali, a local farmer, told Anadolu Agency from Morigaon district, around 60 kilometers (37 miles) from the state capital Guwahati.
"We are being told that we will be shifted to better relief camps. The flood water has damaged the crops in the field and my cattle were wiped away," he added.
Animals at risk
With waters submerging some national highways, various national parks which are home to several endangered species of wildlife have also been affected by the floods.
More than 90% of Kaziranga National Park in Assam state, famous for the one-horned rhinoceros, have been submerged, forcing animals to flee to the higher-up areas. Government sources indicate that at least 23 animals have died either by drowning or by being hit by speeding vehicles on a highway which runs through the park.
Sailendra Pandey, a spokesperson of the Assam Forest Department told Anadolu Agency that eight hog deer and one Sambar deer were killed by vehicles, besides five hog deer and one wild boar having drowned so far.
"Five have died due to other reasons during this wave of floods," Pandey said.