Turkish group runs July 15 advertisement in Washington Post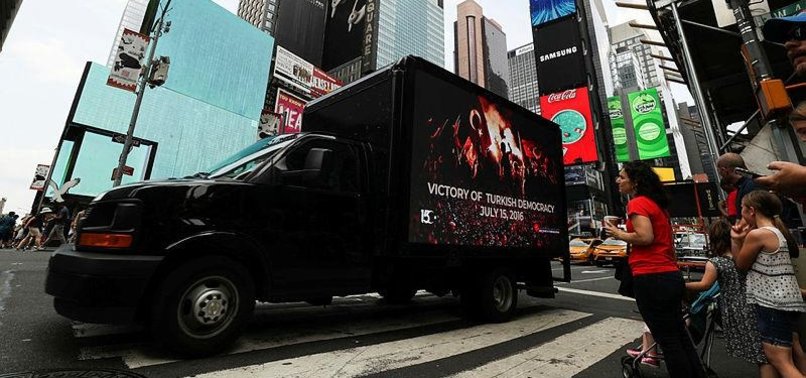 A Turkish-American advocacy group ran an advertisement in the Washington Post Monday demanding the U.S. extradite Fetullah Terrorist Organization (FETO) ringleader Fetullah Gulen to Turkey.
"Three years ago today, on July 15, 2016, a group of traitorous Turkish military personnel hijacked Turkey's military assets and turned them against the people of Turkey in a failed coup attempt to disrupt the Turkish democratic system and overthrow the democratically elected government," the lengthy full-page advertisement from the Turkish-American National Steering Committee (TASC) reads.
"More than 250 innocent people were killed and more than 2,000 were wounded," it says. "These putschists were the obedient servants of the self-declared Imam Fetullah Gulen, who resides in a heavily fortified compound near the quiet town of Saylorsburg, Pennsylvania."
Turkey accuses Gulen and his terror network, known as FETO, of being behind the defeated July 15 putsch.
On that date in 2016 fighter jets flying low over Ankara bombed Turkey's Grand National Assembly, presidential complex, police headquarters and satellite operator Turksat.
Tanks and armored vehicles were also hijacked from military facilities and driven on the city streets in the capital.
The bombed police headquarters in Ankara was reopened by Turkish President Recep Tayyip Erdoğan on the third anniversary of the coup bid.
The Turkish government also accuses FETO of being behind a long-running campaign to overthrow the state through the infiltration of Turkish institutions, particularly the military, police, and judiciary.
"FETO has been spreading across this nation by exploiting charter schools and the so-called intercultural and interfaith associations," the TASC ad warns, referring to the FETO's U.S. operations.

"FETO works quietly, diligently and systematically to infiltrate public institutions. We pray that the U.S. recognizes the harms of FETO early. We commend whistleblowers who are cooperating with Turkish and American law enforcement to stop FETO in America."
"Today we remember and honor those who lost their lives and who were wounded three years ago and urge the U.S. to prosecute and extradite FETO leader Fetullah Gulen to Turkey without further delay."