Extradition bill threatens Hong Kong's freedoms: Expert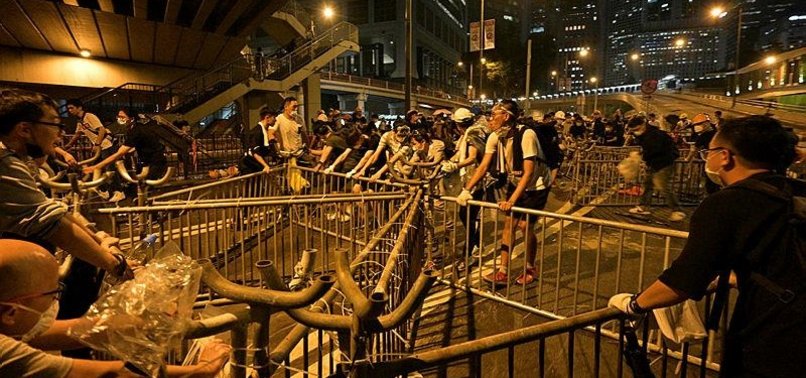 One of the most expensive cities in the world, Hong Kong, is witnessing massive anti-government protests.
Hundreds of thousands of people have taken to the streets since last Sunday to protest a proposed law by Hong Kong leader Carrie Lam which will allow extradition of citizens to China.
Rights groups claim that over a million people participated in the demonstrations asking the government to drop the bill which is being debated in the Hong Kong legislative assembly.
Lam, ruling Hong Kong since 2016, is seen as toeing China's line by a vast majority of its 7 million population.
Up until 1996, Hong Kong was a British colony. At present, it remains an autonomous Chinese territory, which makes Beijing responsible for its foreign and defense policies.
Explaining the situation on ground, Angeline Chan of Hong Kong-based Progressive Lawyers Group (PLG), told Anadolu Agency by phone that the government has proposed amendment to an ordinance which will allow extradition of suspects including those accused of murder and rape to mainland China, Taiwan and Macau.
"If the amendment to ordinance is passed, which most likely will pass through since pro-establishment lawmakers are in majority, any person sought by China will be extradited easily -- but what is more concerning is the new law will not have sufficient safeguards," said Chan, who is part of the advocacy group for human rights.
- MURDER IN TAIWAN
The proposal was made in the aftermath of a murder last February. During a holiday in Taiwan, a teenager murdered his 20-year-old pregnant girlfriend. He fled to Hong Kong and could not be extradited in the absence of any treaty between the two states.
Chan explained that the protesters on the streets express a lack of trust and confidence in the justice system of China, which is known to suppress dissent with an iron fist.
The second reading of the proposed amendment was scheduled for Wednesday, however, massive anti-government protests forced it to be deferred.
"[Otherwise] the amendment was set to be passed by next week," she added.
Hong Kong currently has an extradition treaty with 20 countries including the U.S., Canada and New Zealand.
Meanwhile, Lam has sensed the general anti-extradition mood among the people but has refused calls to step down.
Speaking to reporters on Monday, she said: "For those who have expressed their views, whether you are agreeing or disagreeing with us, I want to thank every one of you because … the scrutiny of our work is an important factor to enhance governance of Hong Kong."
She also tried to dispel perception that Beijing was behind the new law.
"The law was proposed out of conscience and commitment to Hong Kong," Lam said.
- CHINA DENIES ROLE
Likewise, China has put its weight behind Lam's government denying any role in the proposed law.
Chinese Foreign Ministry spokesman Geng Shuang said last Monday: "We firmly oppose any outside interference in legislative affairs [of the region]."
The ongoing demonstrations are believed to be the largest in Hong Kong since pro-democracy Umbrella Movement rallies in 2014, where protesters used umbrellas to shield against pepper spray by police.
But Chan maintains that unlike the Umbrella Movement rallies, this time around many of the protesters are 'first-timers' or young adults.