Centrist bloc loses majority as far-right gains in EU vote
WORLD
Compiled from wire services
Published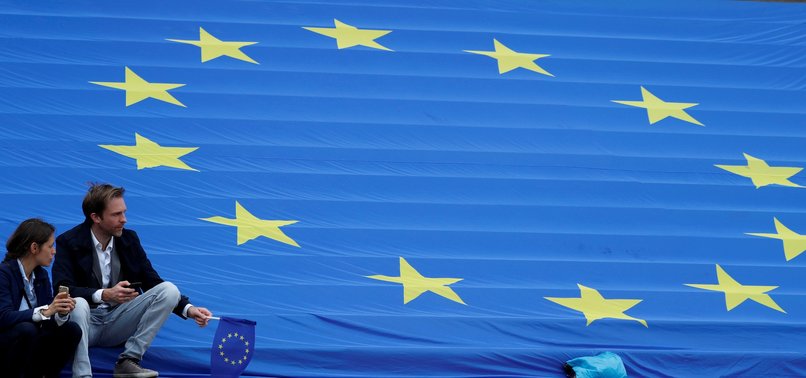 The main conservative group in the European Parliament will remain the largest bloc after Sunday's elections, but has lost ground and will no wield a majority in coalition with its center-left ally.
According to a projection based on partial results and exit polling, and released by the EU parliament, the center-right EPP group is on course to have the most seats in the assembly with 173, down from 216.
But, with the center-left Socialists and Democrats (S&D) projected to win 147 seats, down from 185, the two mainstream parties between them will no longer have a majority and will have to reach out to liberals if they plan to maintain a "cordon sanitaire" and exclude the far-right from decision making.
Under the projection -- which could still shift as results come in -- the liberal ALDE group, now joined by French President Emmanuel Macron's Renaissance movement, could increase its seats from 69 to 102.
The three mainstream parties would thus have a majority in the 751-seat assembly, but only if they can agree a common program and not fall out over nominations to the European Union's most powerful posts.
The main Greens bloc could increase its contingent from 52 to 71, but the main winners from the fall in centrist support could yet be a loose alliance of nationalist and right-wing populists.
Turnout EU-wide was estimated at 51%, the highest in 20 years, implying that more than 200 million citizens across the 28-nation bloc voted in a poll billed as a battle between populists and pro-European forces.
Each previous EU election since the first in 1979 has seen turnout fall, but initial figures from across the 28-nation bloc suggested this year's culture clash has mobilized both populists and those who oppose them.
"I guess that some marginal parties will be less marginal tonight," European Commission president Jean-Claude Juncker said as he cast his vote in his native Luxembourg.
Le Pen's far-right party tops Macron's alliance in France
Marine Le Pen's far-right Rassemblement National party secured the most votes in France's election to the European Parliament on Sunday, a result that will greatly strengthen her ability to build a far-right alliance in the European Union.
An exit poll conducted by the Ifop group showed the Rassemblement National securing 24.0% of the vote, more than a point ahead of President Emmanuel Macron's La Republique En Marche list which was projected to win 22.5%.
Definitive final results will be announced by the French interior ministry later on Sunday.
The result is a setback for Macron who has put Europe at the heart of his presidency and had personally invested time in campaigning for the European vote, in part because of the lackluster performance of the top candidate on his list, former Europe minister Nathalie Loiseau.
"The French people have sent a very clear message and a lesson in humility" to Macron, Jordan Bardella, Le Pen's lead candidate, told supporters. "It's him and his politics that have been rejected."
Support for Germany's Greens surges as coalition parties slump
Germany's Greens saw a surge in support as the ruling coalition parties suffered heavy losses in the EU elections, according to projections by public broadcasters ARD and ZDF.
The Greens came in second place for the first time in a nationwide poll with between 20.5% and 22%, behind Chancellor Angela Merkel's conservative bloc on 27.5-28%. Merkel's junior coalition partner, the Social Democrats (SPD), managed only 15.5%.
The far-right Alternative for Germany (AfD) garnered 10.5% of the vote, while the liberal Free Democrats and hard-left Die Linke (The Left) party both achieved 5.5%.
The SPD were also just behind Merkel's Christian Democrats (CDU) in Bremen state elections, according to the ARD/ZDF projections, meaning the center-left party could lose control of the northern city-state for the first time since the end of World War II.
Italy's ruling League leads as 5-Star loses ground
The far-right League emerged as Italy's largest party in Sunday's European parliamentary election, overtaking its coalition partner the 5-Star Movement, which lost a third of its voters in a year, exit polls said.
If confirmed, such a result could alter the balance of power within the argument-plagued government, giving greater authority to League leader Matteo Salvini, who is pushing for swingeing tax cuts in possible defiance of EU budget rules.
Polls predicted the League took between 26.0-31.0% of the vote, up from some 17% at the 2018 national election and 6.2% at the last EU ballot in 2014, with its uncompromising anti-immigrant message boosting its support.
However, earlier this year it had been polling as high as 37%, suggesting its momentum had ground to a halt following months of surging popularity.
The 5-Star, led by another deputy prime minister, Luigi Di Maio, took between 18.5-23.0%, according to polling on four different television stations, compared with 32% last year and 21.1 percent five years ago.
The same polls suggested 5-Star had been overtaken on Sunday by the opposition center-left Democratic Party (PD), which was seen winning between 20.5-25.0% from 18.7% in 2018 and 40.8% in 2014.
Forecasts show Austria's far-right on top
The far-right People's Party (OeVP) of Austrian Chancellor Sebastian Kurz is on course for gains in the European parliament elections, with the far-right Freedom Party coming third, according to a media forecast published as polls closed in Austria on Sunday.
It gave the OeVP 34.5% of the vote, up more than seven points on the last such vote in 2014, while the FPOe was in third place, falling from 19.7% to 17.5%.
The predictions are based on surveys carried out by a group of Austrian polling institutes since Tuesday, including as Austrians went to the polls on Sunday.
However, pollsters cautioned that predicting results has been made more difficult by the fact that the vote comes only days after the so-called "Ibiza-gate" corruption scandal engulfed the far-right Freedom Party (FPOe), leading Kurz to dissolve his coalition with the FPOe and call early national elections for the autumn.
Conservative opposition wins in Greece, prompting PM to call snap polls
Greek voters on Sunday slammed Prime Minister Alexis Tsipras' Syriza party in EU parliament and local elections, giving the opposition conservative New Democracy party a solid lead, exit polls and early results indicated.
The exit polls for European parliament elections gave New Democracy 33.5% compared to 25% for Syriza, according to a combined survey by the five main private TV stations.
And early results from 15% of polling stations gave New Democracy a lead of over eight percent in local elections too.
"Greece has sent a strong message... the people have withdrawn their confidence," said New Democracy head Kyriakos Mitsotakis.
"Greece needs a new government... the prime minister must assume his responsibilities, he must resign for the good of the country," he said.
Tsipras responded on Sunday evening by calling for snap elections, saying the results of the election could not be ignored.
Hungary's ruling far-right party set to win more than 50%
Hungary's ruling right-wing Fidesz party could win 56% of votes in the European parliamentary election, state television reported on Sunday, citing a survey by pro-government pollster Nezopont.
According to the survey, Prime Minister Viktor Orban's party was well ahead of the Socialists and the leftist Democratic Coalition who were expected to win 10% each. The nationalist Jobbik was seen getting about 9%, and Momentum party 7%, state TV said.