Mohamed Morsi and Egypt's ongoing 'show trials'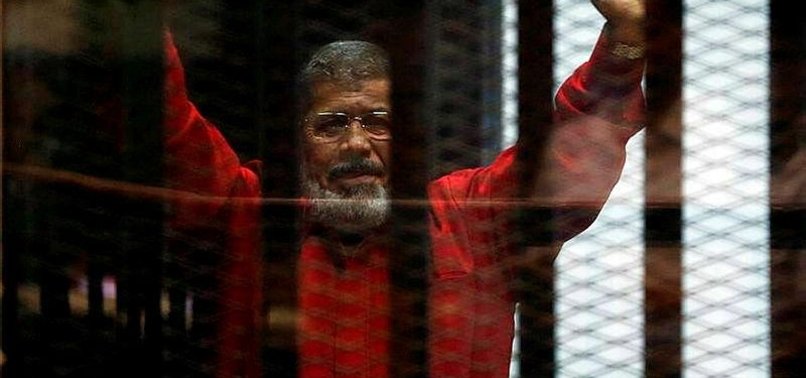 Mohamed Morsi, Egypt's first-ever freely-elected president, has been subject to numerous trials -- for a host of charges -- since he was ousted and imprisoned in a 2013 military coup.
Morsi currently faces six separate criminal charges: jailbreak, murder, spying for Qatar, spying for Hamas and Hezbollah, insulting the judiciary, and involvement in terrorism.
The former president has so far racked up at least one lifetime prison sentence and has also been added to Egypt's official list of "terrorists".
Later this year, the court is expected to issue final rulings in two more cases against Morsi.
In 2015, he received his first death sentence for escaping from prison during Egypt's 2011 popular uprising.
In the same year, he was convicted of "spying" for Palestinian resistance movement Hamas, for which he was sentenced to life behind bars.
But in 2016, the Court of Cassation, Egypt's highest appellate court, overruled both verdicts and ordered two separate retrials.
Morsi, along with several other defendants from his now-banned Muslim Brotherhood group, also stands accused of "breaching" Egypt's eastern borderer -- allegedly in cooperation with Hamas, Hezbollah and Iran's Revolutionary Guard Corps.
Former President Hosni Mubarak, whose regime was brought down by the 2011 uprising, sparked controversy last December when he gave testimony in the latter case.
Mubarak alleged that 800 Hamas gunmen had snuck into Egypt during the uprising and helped break Muslim Brotherhood and Hamas members out of jail -- claims both groups deny.
According to Selman Ogut, an associate professor of international law at Istanbul Medipol University, the multiple trials to which Morsi is subject are "devoid of any legal basis".
Speaking to Anadolu Agency, Ogut pointed out that the entire legal process against Morsi is being conducted by "the executors of a military coup who have no authority to determine law".
On the contrary, Ogut asserted, "military coups are considered crimes under international and domestic law, which requires that putschists be tried".
In 2016, the Court of Cassation also upheld a 20-year jail term handed down against Morsi for the murder of protesters in clashes that erupted outside Egypt's presidential palace during Morsi's single year in power.
He has also been slapped with a life sentence for "spying" for Qatar, along with another three years behind bars for "offending Egypt's judiciary".
Ogut, for his part, describes the ongoing trials as "theater".
"They are entirely lacking in universal principles, including the right to a fair trial," he said.
"Defendants are subject to torture while under interrogation," he added. "Their families are threatened with harm if they don't admit to crimes they didn't commit."
Ogut went on to blame the international community, especially the UN, for "not taking action against the ongoing show trials in Egypt".
The international community's stance on the issue, he said, "is problematic in terms of basic human rights and freedoms".
Since Morsi's ouster in mid-2013, Egypt's post-coup authorities have waged a relentless crackdown on dissent, killing hundreds of the former president's supporters and throwing thousands in jail on "violence" charges.
What's more, shortly after the coup, Morsi's Muslim Brotherhood was officially designated a "terrorist organization".
Morsi and his co-defendants, meanwhile, deny all the charges against them, which they describe as "politically-motivated".