Iraq never to permit domestic threat against Turkey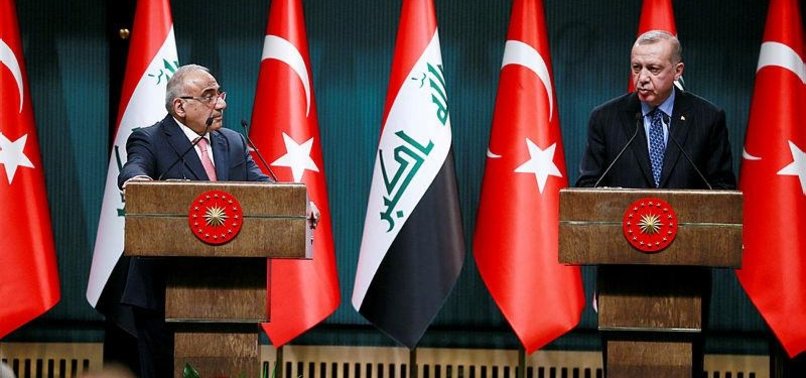 Iraq will never allow any security threat against Turkey from its own territory, Iraq's premier said on Thursday.
"Turkey and Iraq are two neighbors and their people enjoy brotherly relations as well as a common history and political and economic interests," said Adil Abdul-Mahdi at a joint press conference with Turkish President Recep Tayyip Erdoğan.
Referring to Turkey's "tremendous success" in fighting poverty, achieving economic growth and development and strengthening its defense industry Abdul-Mahdi said it was "high time Iraq benefited from the opportunities Turkey has been enjoying" as well.
"Our interests and aspirations are intertwined," he added, underlining that the two countries could pursue common bilateral and regional interests by "joining forces in combating terrorism and increasing bilateral trade
- TURKEY ALWAYS STANDS WITH IRAQ
Promising further security cooperation with Ankara, Abdul-Mahdi cited the "disappearing" terrorist Daesh presence in his country and said the Baghdad would "never allow any return" to the insecurity of the past.
Abdul-Mahdi added that Turkey has shown solidarity with Iraq throughout its fight against terror.
"At a time when others left Iraq fearing their safety, Turkey did not leave Iraq alone in its darkest years. Many of our Turkish brothers sacrificed their lives for Iraq," he said, referring to Turkish military assistance Daesh.
"Another thing that Iraq will never forget is Turkey's hosting of Iraqi refugees. We are grateful and thankful," he added.
Abdul-Mahdi stressed that conditions were ripe for investment in his country by Turkish companies, which he said enjoyed a "great reputation" in Iraq.
The two countries had reached agreement on many issues during the two leaders' meeting in Ankara, which would be acted upon with concrete steps after an upcoming visit to Baghdad by Erdoğan, he said.