Oman university adds Turkish to elective curriculum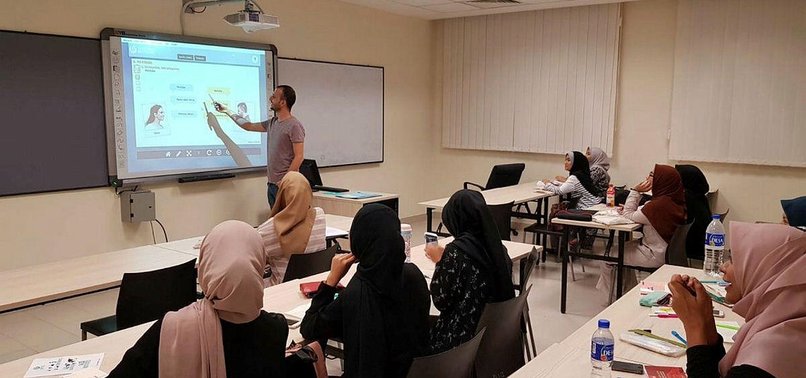 Sultan Qaboos University in Oman added Turkish language as an elective course to its curriculum after inking a protocol with Turkey's Maarif Foundation.
On behalf of the parties, Turkey's Hasan Yavuz, vice president and ambassador at Maarif -- a not-for-profit public education body -- and Oman's Mona Fahd Al-Said, assistant vice chancellor of the university, signed the agreement on Wednesday.
Ali bin Saud al Bimani, vice chancellor of Sultan Qaboos University and Turkey's ambassador to Oman Ayse Sozen Usluer, as well as some education experts in Oman were present at the meeting.
Turkey established the Maarif Foundation in 2016 after a coup attempt to take over the administration of overseas schools linked to Fetullah Terrorist Organization (FETO). It also establishes schools and education centers abroad.
The sides also discussed the possibilities of further cooperation between Sultan Qaboos University and the Maarif Foundation through exchange of students.
In his second visit to Oman, Yavuz thanked the Gulf country for its support to Turkey in shutting down FETO schools earlier and the university for offering Turkish language to its students.
"We are in friendly and brotherly country Oman that has supported Turkey's fight against FETO by closing its schools," said Yavuz on Twitter.
Located in the Muscat Governorate, Sultan Qaboos University is the only public university in Oman.
FETO and its U.S.-based leader Fetullah Gulen orchestrated the defeated coup of July 15, 2016 in Turkey, which left 251 people martyred and nearly 2,200 injured.
Ankara accuses FETO of being behind a long-running campaign to overthrow the state through the infiltration of Turkish institutions, particularly the military, police and judiciary.