Turkish Supreme Election Council to investigate over irregular voters in Istanbul polls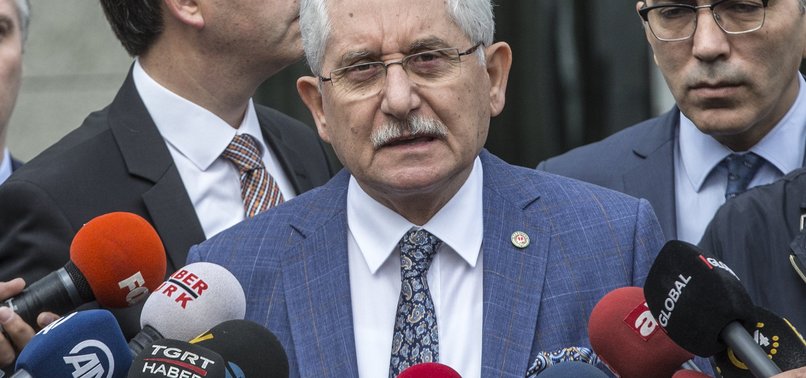 The Supreme Election Council (YSK) ruled Tuesday for further inquiry on fake voter registration and irregular balloting committee allegations made by the ruling Justice and Development Party's (AK Party) in its appeal against the hotly contested Istanbul vote on March 31. In its interim decision, the top election authority announced that it decided to probe 41,132 voters of the March 31 elections, as well as the presiding officers and polling station staffs who are not civil servants.
Turkish Supreme Election Council (YSK) will investigate over 41,000 ineligible voters following a contest by the ruling Justice and Development (AK) Party to the Istanbul poll results of last month's mayoral election.
On Tuesday, the YSK held a meeting to discuss the ruling party's extraordinary appeal to cancel the election results in Istanbul.
On the second day of meetings at its headquarters in Ankara over the AK Party and its People's Alliance partner the Nationalist Movement Party's (MHP) extraordinary appeals challenging the outcome of the vote carried by Nation Alliance candidate Republican People's Party's (CHP) Ekrem Imamoğlu, the YSK, in its interlocutory decision, ruled for further inquiry on the AK Party's allegation of 41,132 ineligible or irregular voters included on voter lists through registry records.
Last week, the ruling party claimed that 41,132 people had voted despite being ineligible to cast vote in the elections according to the country's election law.
The ineligible voters included deceased people as well as those behind bars and mentally retarded.
The 41,132 irregular voters cited in AK Party's appeal filed on Thursday include 2,308 ineligible voters, 1,229 deceased citizens, 5,287 convicts wrongfully recorded in prisons in Istanbul and 236 voters registered in Istanbul prisons, 10,290 convicts recorded in voter lists both in prisons and their registered local settlements, in addition to 21,782 people with mental disabilities of a severity that deems them ineligible to vote. The YSK will investigate whether these voters were subject to irregular recording in voters lists and if so, whether they cast votes in the elections.
Another point of appeal that will be investigated by the YSK is the allegation that 19,742 people who are not public officers were included to serve on balloting committees on election day. This number makes up some one-third of all personnel listed for balloting committees. Opponents of this appeal say that the majority of the 19,742 names were indeed public officials who normally serve in different cities but were recorded in Istanbul on election day or were political party officials, since the number of public officers in Turkey's largest city, home to 10.5 million voters, is not sufficient to stock balloting committees, adding that this is a routine procedure that has been applied in previous elections.
The AK Party claimed this number would change the Istanbul mayoral election results in their favor where the main opposition party candidates won by around 13,000 votes.
The election body said it would investigate the issue and also examine where this irregularities might change the result. Then the YSK will deliver its final decision.
Meanwhile, the election body also concluded that the voters who had been dismissed from their post with a statutory decree were eligible to vote, rejecting the ruling party's complain on the issue.
On Saturday, the AK Party appealed to the YSK to declare the sacked public servants as ineligible to vote.
Millions of Turkish voters cast their votes nationwide on March 31 in local elections to choose mayors, city council members, and other officials for the next five years.
Despite Ekrem Imamoğlu, of the main opposition Republican People's Party, officially taking office as Istanbul mayor, his election still faces legal challenges from the AK party, citing illegalities at the polls.