Turkey's Children's Day celebrated in Pakistan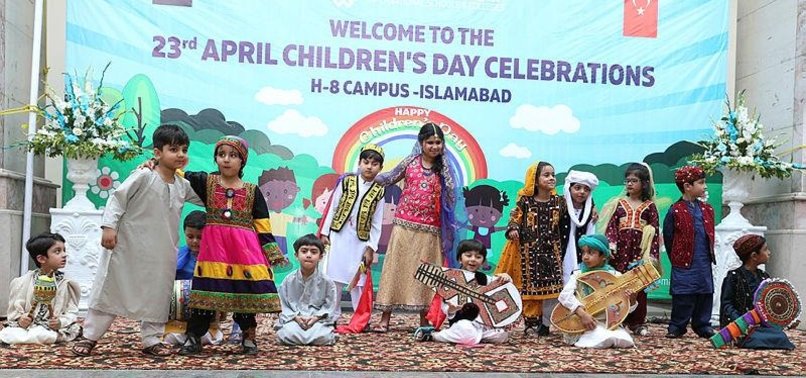 Turkey's National Sovereignty and Children's Day was celebrated in Pakistan's capital Islamabad on Tuesday.
A colorful ceremony was held at Pak-Turk Maarif school Islamabad which was organized by Turkey's Maarif Foundation.
Turkey established the Maarif Foundation in 2016 after a coup attempt to take over the administration of overseas schools linked to FETO. It also establishes schools and education centers abroad.
"Today is very special and significant day for the Republic of Turkey, this day indicates an important milestone in the national history of the Turkish republic as its the day when the Turkish Grand National Assembly was founded in Ankara by our great leader Mustafa Kemal Ataturk," said Ihsan Mustafa Yurdakul, Turkey's ambassador to Pakistan, at the event.
The ambassador praised and thanked the Maarif Foundation for arranging such a great event on the Turkish historical day and gathered children, families and people.
Maarif Foundation organized several activities for the children -- including setting up inflatable jumping balloons, face painting songs competition and ebru art among other activities.
The students also installed food stalls to generate income that will be donated to the orphan children.
"This is a historical day in Turkey when children take seats in the parliament, government offices and even in the presidency for the day and symbolically govern the country," said Selahattin Batur, Maarif Foundation's country director.
"Our great leader dedicated this day to Turkish children as a gift because he knew the future lies with children," Batur added.
The April 23 celebrations focus on children after Ataturk, the first speaker of the parliament, dedicated the day to children as the nation's future.
The day also marked the 99th anniversary of the foundation of Turkey's parliament.