Haftar void of local legitimacy, support: Libyan envoy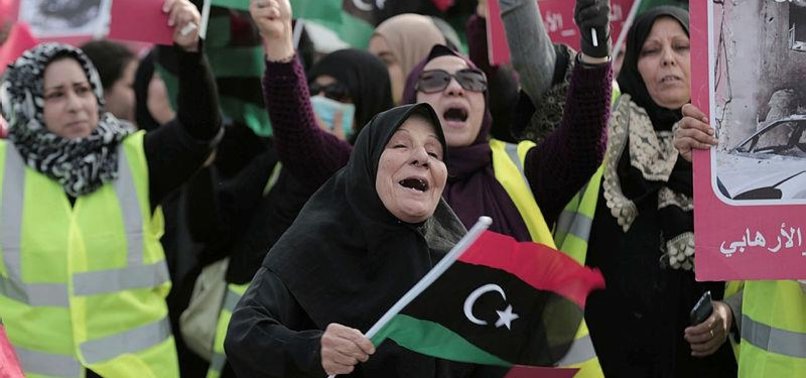 Khalifa Haftar, commander of forces loyal to a rival government in eastern Libya, has no local legitimacy or support, according to Libya's ambassador to Turkey.
Speaking at a conference, organized by the Institute of Strategic Thinking -- a think tank based in Turkey's capital Ankara -- Abdurrazag Mukhtar Ahmed said Thursday that Libya's Tripoli-based government is "very strong", so the fall of Tripoli is "impossible".
"Haftar has financial support from countries, the United Arab Emirates (UAE) and Egypt in particular, which support a military rule in Libya that will fight against religious groups they consider 'extremist'.
"In line with their goals, those countries support terror groups as well," said Ahmed.
He further said: "International support is not sufficient to gain legitimacy, one must also have local support and Haftar lacks it except some regions in eastern Libya."
Ahmed also said that the Libyan people will not let "a new dictator [referring to Haftar] replace the old one [Muammar Gaddafi]."
In response to a question by Anadolu Agency whether the UN gives adequate support to the government in Libya, Ahmed said he does not observe any international determination or willingness to stop the tension in Libya.
"UN is unable to come up with solutions in Libya. It failed in Palestine, Iraq, Syria, Rwanda and Yemen, too because it thinks of its own interests," said Ahmed.
Yet, he voiced hope that the situation in the civil war-torn country will return to "normalcy and stability" soon.
- LIBYA-TURKEY RELATIONS
Ahmed said Turkey has always played a "neutral and constructive role in Libya and prioritized the national interests of Libyan people".
Strongly defending Turkey in the wake of accusations on the media of UAE and Egypt that Turkey supports radical groups in Libya, Ahmed said they "know firsthand that Turkey has never supported radical groups in Libya".
Ahmed hoped that Turkey and Libya will soon enjoy the good relations the two countries had experienced until the tensions divided the country.
"We used to enjoy $18 billion worth of economic cooperation and numerous flights between Turkey and Libya. Right now, there is infrastructure work worth $250 billion that waits to be fulfilled," Ahmed said.
Following two weeks of intermittent fighting near Tripoli that has left scores dead, forces loyal to Haftar have so far failed to capture the capital.
Libya has remained beset by turmoil since long-serving leader Muammar Gaddafi was ousted and killed in a bloody NATO-backed uprising in 2011.
Since then, the country has seen the emergence of two rival seats of power: One in eastern Libya, to which Haftar is affiliated, and another in Tripoli, which enjoys UN recognition.