Erdoğan says AK Party will struggle until YSK takes final decision
WORLD
Agencies and A News
Published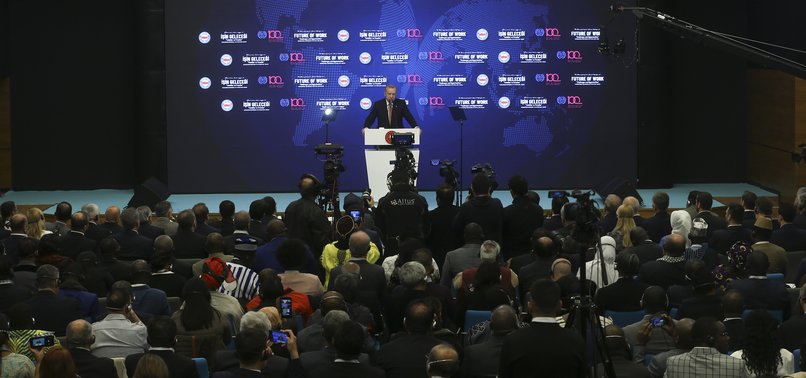 Delivering a speech during the international business conference organized by the Confederation of Public Servants Trade Unions (Memur-Sen) in the capital Ankara on Thursday, Turkish President Recep Tayyip Erdoğan said in his speech [while refering to their efforts to contest election results] that the ruling AK Party would putting up a struggle until the High Election Board (YSK) made a final decision on Istanbul polls held on March 31.
Turkey's ruling party will continue to contest irregularities in last month's local elections "to the last," said the president on Thursday, adding that the country's top election body will have the final say.
"When the Supreme Election Council makes the final decision, the issue will be finished for us," Recep Tayyip Erdoğan told an international business conference held by the Confederation of Public Servants Trade Unions (Memur-Sen) in the capital Ankara.
"Throughout our history, every kind of political party has resorted to such methods [of appealing]," Erdoğan said, adding that such appeals are "required by democracy."
He also called for public restraint, saying: "All 82 million of us should act as a 'Turkey alliance,' putting aside our political differences when it comes to the country's survival."
"We need to focus on our main agenda, particularly on the economy and security, leaving the election debate behind," he stressed, saying that now should be a time of "unity and togetherness."
Millions of Turkish voters cast their votes nationwide on March 31, in local elections to choose mayors, city council members, and other officials for the next five years.
Ekrem Imamoğlu of the opposition Republican People's Party (CHP) on Wednesday officially took office as mayor of Istanbul -- a metropolis of 16 million people -- but his election still faces legal challenges from the ruling Justice and Development (AK) Party, citing illegalities at the polls.
Criticizing some Western media outlets for trying to paint Turkey's economy in a negative light, Erdoğan said: "Whatever you do, whatever headlines you run, Turkey stands tall and will continue on its way, growing stronger."
"As we point to double standards over issues in the fight against terrorism and refugees, the number of news reports against us rises," he said.
In particular, Erdoğan blasted the Turkey coverage of The Financial Times, calling attention to the policy of Britain -- where the paper is based -- on refugees.
"How many refugees does your country host? Go ahead and write a story on that too," he said.