Ilhan Omar condemns TV host's dual-loyalty remark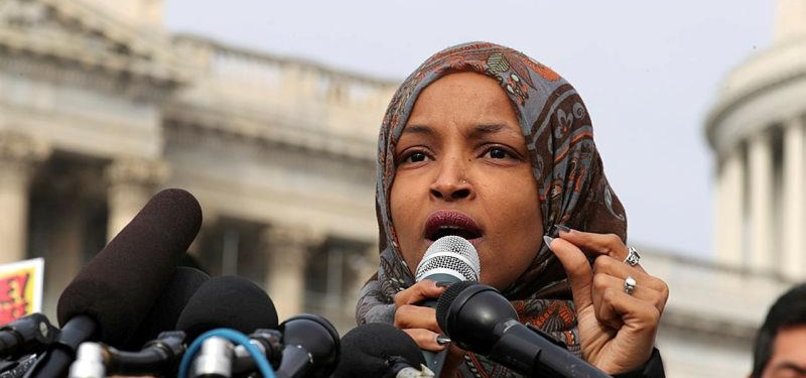 Congresswoman Ilhan Omar called out a conservative TV talk show host's "dangerous" comments that questioned her loyalty to the U.S.
"This is dangerous incitement, given the death threats I face. I hope leaders of both parties will join me in condemning it," the Muslim lawmaker tweeted. "My love and commitment to our country and that of my colleagues should never be in question. We are ALL Americans!"
The criticism Omar faced was in response to comments she made about the Sept. 11, 2001 terrorist attacks, in which she said Muslim Americans should not be considered second-class citizens because of it.
"Far too long we have lived with the discomfort of being a second-class citizen," Omar said at an event for the Council on American-Islamic Relations (CAIR). "And frankly, I'm tired of it. And every single Muslim in this country should be tired of it. CAIR was founded after 9/11 because they recognized that some people did something, and that all of us were starting to lose access to our civil liberties."
Fox network host Brian Kilmeade of Fox & Friends, responded with "you have to wonder if she's an American first."
Dan Crenshaw, a congressman from Texas, was also critical of Omar, saying her description of the perpetrators of the terrorist attacks as "some people" is unbelievable.
"First Member of Congress to ever describe terrorists who killed thousands of Americans on 9/11 as 'some people who did something'," Crenshaw tweeted. "Unbelievable."
Omar, a Democratic representing Minnesota's 5th district, is one of the first two Muslim lawmakers to be elected into U.S. Congress.
She has been faced by a slew of attacks and death threats in recent weeks, a part of ongoing criticisms and attacks she has faced since she made comments criticizing Israel.
Last Friday, a man in New York was charged with threatening to assault and kill Omar, after he reportedly said "she's a [expletive] terrorist. I'll put a bullet in her [obscenity] skull."