UN Security Council rejects Trump's Golan move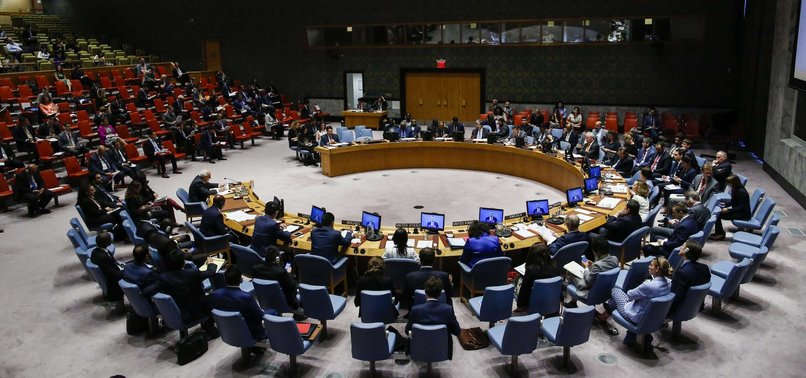 The UN Security Council on Wednesday roundly rejected Washington's decision to recognize Israel's sovereignty over the occupied Syrian Golan Heights.
Syria called for an emergency meeting of the council following U.S. President Donald Trump's decision Monday to unilaterally recognize Israel's claim to the territory.
All members of the council except the U.S. harshly condemned the action, warning it risks regional stability and undermines the rules-based international order.
"Any unilateral action that would turn its back to the resolutions of the council is doomed to failure," said Security Council President Anne Gueguen, speaking as the French representative.
France holds the council presidency for the month of March.
Israel seized the Golan Heights from Syria during the 1967 Six-Day War.
It continues to occupy roughly two-thirds of the wider area as a de facto result of the conflict. It moved to formally annex the territory in 1981 -- an action unanimously rejected at the time by the UN Security Council, which called on Israel to rescind its decision.
The U.S. as a permanent member of the council voted at the time in favor of the resolution.
Israel has long lobbied Washington to recognize its claim over the Golan, but all past administrations refused to heed the calls. The annexation of territory seized in conflicts is illegal under international law.
The Trump administration has repeatedly cited the illegality of such actions in the past, particularly in refuting Russia's claim to the Crimean Peninsula, which it seized from the Ukraine in 2014 and annexed that year following a referendum rejected by the international community.
The U.S. defended its controversial Golan proclamation, saying during the emergency council meeting that it believes that recognizing Israel's claim "contributes to" the stability of the region and Israel.
Russia, Syria's principal international ally, warned, however, that it "not only exacerbates the situation in Syria" but "also creates serious obstacles to normalizing relations between Israel and the Arab states".
"The unilateral decision of the U.S., for whatever reason it was taken, does not change any international legal decisions," said Russian Deputy Ambassador Vladimir Safronkov.
Bashar Jaafari, Syria's UN ambassador, issued a blistering critique of the U.S. action, launching into a lengthy tirade assailing the decision.
The U.S. administration, he said, is "dangerous because they represent a blind and unprecedented tendency to twist international policy".
"The Syrian Golan is ours. It will come back to us," Jaafari added. "You've brought shame to your own country."