US envoy to Israel reveals details of 'Deal of Century'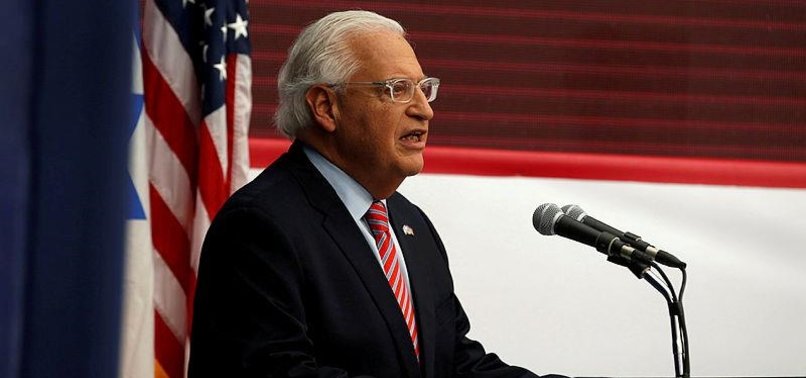 U.S. Ambassador to Israel David Friedman on Wednesday revealed three key elements of the U.S. administration's backchannel Middle East peace plan known as the "Deal of the Century".
Friedman is a member of a three-man team tasked with formulating the plan.
The team also includes Jared Kushner, a senior advisor to U.S. President Donald Trump (and Trump's son-in-law), and Jason Greenblatt, Trump's special envoy for the Middle East.
Addressing this week's American Israel Public Affairs Committee (AIPAC) conference in Washington, Friedman said that the plan would give Israel full security control over the occupied West Bank while also allowing Israel to maintain a permanent security presence in the Jordan Valley.
"Can we leave this to an administration that may not understand the need for Israel to maintain overriding security control of Judea and Samaria [i.e. the West Bank] and a permanent defense position in the Jordan Valley?" Friedman said at the conference.
Friedman also addressed Jerusalem, saying Trump did not want to leave the issue to a future U.S. administration that might not recognize Israeli sovereignty over the city.
"For the first time in 2,000 years, Jerusalem has become a dynamic and prosperous city fully open to worshippers of all three faiths," he said.
The current administration, he added, would continue to work with Israel, the Palestinians, and other regional players in pursuit of a final peace settlement.
Friedman also defended the Trump administration's controversial position on the occupied Syrian Golan Heights, Israel's questionable claim to which Trump officially recognized on Sunday.
"Without the high ground of the Golan, Israel is exposed to extraordinary risks from treacherous enemies," he said.
Without the strategic Golan plateau, Friedman asserted, "Syria would be right on the shores of the Sea of Galilee, which provides 40 percent of Israel's fresh water".
The Trump administration has recently adopted several measures intended to ramp up pressure on the Palestinians, including the slashing of aid to the UN's relief agency for Palestinian refugees.
According to Kushner, the terms of the long-anticipated "Deal of the Century" will be unveiled following Israeli elections slated for next month.