Pakistan's former PM Sharif released from jail
WORLD
Agencies and A News
Published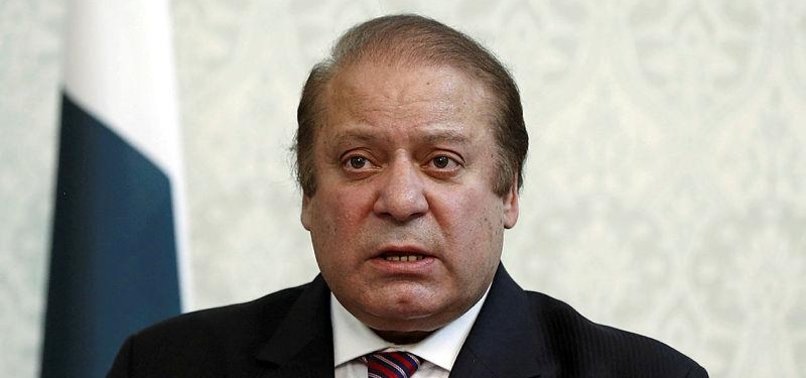 Pakistan's jailed former Prime Minister Nawaz Sharif was released on Tuesday following a bail granted by the top court, officials and local media reported.
Footage aired on Geo News showed Sharif waving from his vehicle to hundreds of supporters who had gathered outside jail in the northeastern city of Lahore to welcome him.
The Supreme Court of Pakistan on Tuesday granted bail to Sharif for six weeks on medical grounds, local media reported.
A three-member bench of the top court headed by Chief Justice Asif Saeed Khosa suspended a 7-year jail term that Sharif is currently serving in a corruption case and ordered his release on bail against a surety of Rs 5 million (approx. $36,000) for six weeks, local broadcaster Geo News said in a report.
However, the three-time premier will not be allowed to go abroad during this period for medical treatment or any other purposes, the top court declared.
In February, the Islamabad High Court (IHC) had rejected Sharif's petition seeking bail on medical grounds for "lack of merit".
Sharif had challenged the IHC judgment in the top court.
The former premier, who has twice undergone open-heart surgeries, has been convicted in two of a total of three corruption cases against him, and exonerated in the third.
In the first case, Sharif, 69, was sentenced last July to 10 years in jail in a corruption case by an accountability court in the capital Islamabad, but the Islamabad High Court suspended the conviction in September.
His daughter and potential political heir Maryam Nawaz and son-in-law Mohammad Safdar had also been sentenced to seven years and one year in prison respectively in the same case. The two are also out on bail.


- Al Azizia case
In the second case -- known as Al Azizia -- in December, 2018, Sharif got seven years in jail for owning assets beyond known income sources. Sharif also challenged the second conviction in the Islamabad High Court, which will start the hearing on his appeal this week.
In September 2017, at the directive of the Supreme Court, the National Accountability Bureau accused Sharif of corruption by making assets in Saudi Arabia and the UAE in the name of his underage sons during his first term as premier in the early 1990s.
Sharif, however, denied the charges, and accused the "establishment" -- a term meant to designate the country's powerful army -- and a section of the judiciary of "targeting" him and his family.
His center-right main opposition Pakistan Muslim League (Nawaz) party has welcomed the judgment.
In July 2017, he was disqualified by the Supreme Court over the Panama Papers scandal, which also led to the filing of the three corruption cases. Not long after, the top court also barred him from holding the leadership of his party.
Sharif served as premier in 1990-1992, 1997-1999, and 2013-2017, but was unable to complete even a single five-year term. His two previous governments were dismissed over corruption charges and through a bloodless military coup in 1992 and 1999, respectively.
His younger brother, and three-time chief minister of Punjab -- the country's most populous province -- Shehbaz Sharif also stands trial a housing scam. Shehbaz's son, and the opposition leader in Punjab Assembly, Hamza Shehbaz too is facing inquiries in connection with multiple corruption cases.