Israel arrests guard from Al-Aqsa amid mounting tension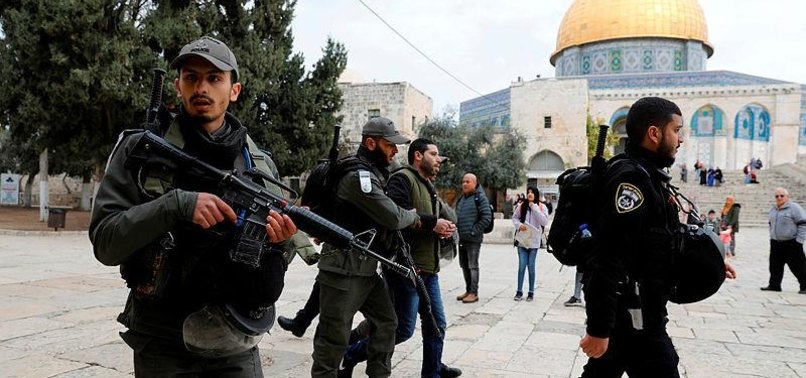 Israeli police detained a guard at East Jerusalem's Al-Aqsa Mosque compound as he left the flashpoint site on Sunday, according to Palestinian authorities.
"The guard was arrested as he went out from Al-Majlis gate, one of the Al-Aqsa mosque gates," Jerusalem's Religious Endowments Authority, a Jordan-run agency mandated with overseeing the city's Muslim and Christian holy sites, said in a brief statement.
It said the guard has been taken into custody for interrogation.
It remains unclear the reason for the guard's arrest, which came shortly after an Israeli court ordered the closure of Al-Aqsa Mosque compound's Rahma Gate, located adjacent to the eastern wall of Jerusalem's Old City.
Tension has mounted in Jerusalem since last month, when Israeli police briefly sealed the gate, sparking angry Palestinian demonstrations.
In the weeks since, the Israeli authorities have banned scores of Palestinians -- including religious officials -- from entering the Al-Aqsa, which for Muslims represents the world's third holiest site.
Israel occupied East Jerusalem, in which the Al-Aqsa is located, during the 1967 Arab-Israeli War. It annexed the entire city in 1980 in a move never recognized by the international community.
For Muslims, Al-Aqsa represents the world's third holiest site. Jews, for their part, refer to the area as the "Temple Mount," claiming it was the site of two Jewish temples in ancient times.