Israeli warplanes pound Gaza; four Palestinians injured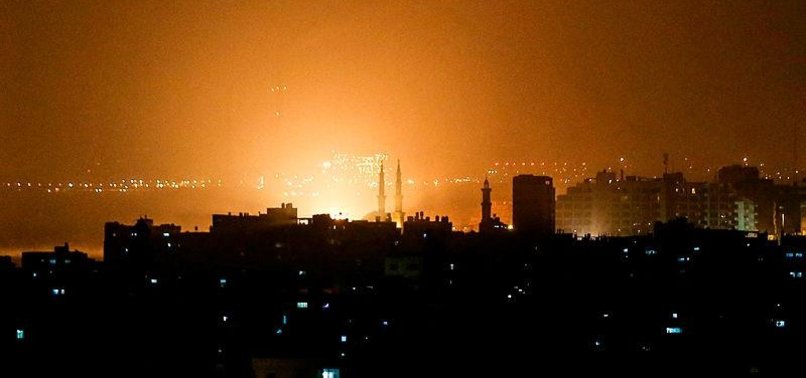 Israel carried out intensive overnight air attacks inside the blockaded Gaza Strip early Friday morning, injuring at least four Palestinians, according to Palestinian sources.
"Two civilians were injured in Gaza City while two others were hurt in the southern city of Rafah," Ashraf al-Qidra, a spokesman for Gaza's Health Ministry, said.
According to an Israeli army statement, the strikes came in response to two rockets fired from Gaza towards Tel Aviv on Thursday evening.
Fighter jets and helicopters struck around 100 Hamas targets inside the Gaza Strip, the army said, including sites affiliated with the Ezzedine al-Qassam Brigades (Hamas's armed wing) and Saraya al-Quds (Islamic Jihad's armed wing).
"Targets included Hamas's Gaza City headquarters, an underground rocket facility and several military posts," the army statement read.
Both Hamas and Islamic Jihad, for their part, have denied any responsibility for the alleged rocket attack, with both groups issuing statements holding Israel responsible for the latest escalation.
Hamas, for its part, accused Israel of attempting to "manufacture a new crisis" in Gaza.
"The targeting of civilian and resistance sites in Gaza constitutes yet another Israeli crime against our people," Hamas spokesman Fawzi Barhoum said in a statement.
"We will never allow Palestinian blood to be used as a bargaining chip for Israeli politicians to win votes," he added, referring to upcoming Israeli elections slated for April 9.
Thursday's alleged rocket salvo was the first to be fired toward the greater Tel Aviv area since Israel's devastating 51-day onslaught against Gaza in mid-2014.