Pakistan observes Kashmir Solidarity Day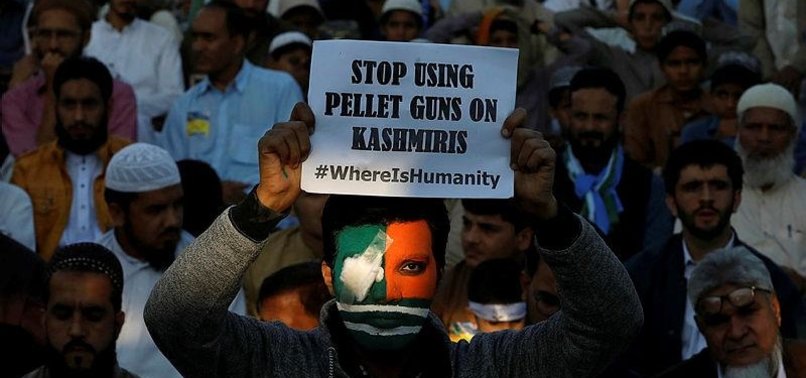 Rallies were held and human chains were formed across Pakistan on Tuesday to express solidarity with the pro-independence movement in Jammu and Kashmir.
As a national holiday, the day began with special prayers in the mosques for the liberation of Kashmir. A minute's silence was observed throughout the country at 10 a.m local time [0300GMT].
Human chains were were formed on roads connecting capital Islamabad to Pakistan-administered Kashmir.
In Islamabad, the key ceremony was held near the parliament house, which was attended by the government and opposition parliamentarians, including Minister for Kashmir Affairs Ali Amin Gandapur, apart from a large number of students.
Rallies, conferences, and seminars were also held in all the four provincial capitals -- Karachi, Lahore, Peshawar and Quetta -- to denounce the ''human rights violations in the Jammu and Kashmir.''
Jamat-e-Islami, a mainstream religious political party, which began observing Feb. 5 as Kashmir Day in 1990, held rallies across the country, including a major congregation in Karachi to express solidarity with the freedom struggle.
President Arif Alvi and Prime Minister Imran Khan in their separate messages reiterated that the entire Pakistani nation stood beside their Kashmiri brethren "in their valiant struggle to achieve the legitimate right to self-determination".
Alvi also addressed the Pakistan-administer Kashmir Legislative Assembly session in Muzzafarabad where he demanded ''the release of political prisoners in India and a ban on the use of pellet guns, that have left hundreds of Kashmiris visually impaired.''
Foreign Minister Shah Mahmood Qureshi led a delegation to London where an international conference on Kashmir was held in the British parliament.
The conference adopted a resolution expressing concerns over the plight of Kashmiri people, Radio Pakistan reported.
"The resolution urged the International Community including the United Nations to take immediate and effective measures to address the human rights situation in Kashmir," the report said.
Kashmir, a Muslim-majority Himalayan region, is held by India and Pakistan in parts and claimed by both in full. A small sliver of Kashmir is also held by China.
Since they were partitioned in 1947, the two countries have fought three wars -- in 1948, 1965 and 1971 -- two of them over Kashmir.
Also, in Siachen glacier in northern Kashmir, Indian and Pakistani troops have fought intermittently since 1984. A cease-fire came into effect in 2003.
Some Kashmiri groups in Jammu and Kashmir have been fighting against Indian rule for independence, or for unification with neighboring Pakistan.
According to several human rights organizations, thousands of people have reportedly been killed in the conflict in the region since 1989.