'Red scarves' march in Paris in riposte to 'yellow vests'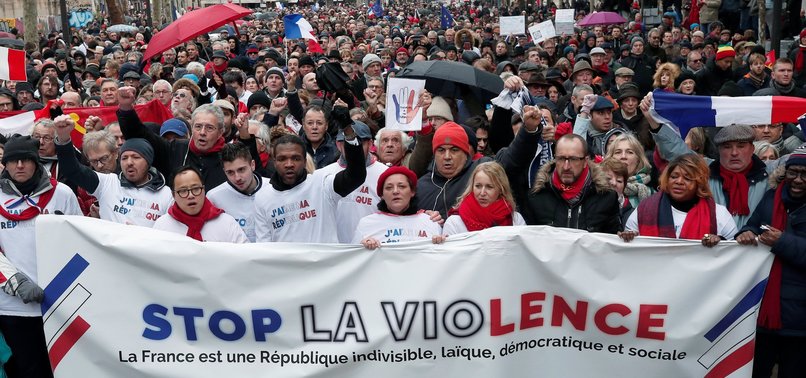 Some 10,000 people wearing red scarves marched through Paris on Sunday to protest acts of violence and vandalism on the sidelines of anti-government demonstrations by the largely peaceful yellow vest movement.
Thousands of people took to the streets in Paris on Sunday to protest weeks of anti-government demonstrations by the Yellow Vests movement.
The group -- called itself the Red Scarves -- gathered in Nation Square in Paris and marched to Bastille Square, chanting "enough" and "end the violence".
Laurent Soulie, a 51-year-old aeronautics engineer, told reporters on behalf of the group that the anger of the Yellow Vests was understood and legitimate, however, the violence during the protests was unacceptable.
More than 10,000 people, most of them wearing red scarves, attended the march, according to Paris police.
Yellow Vest protests
The Yellow Vest protests, which started in reaction to fuel tax hikes and evolved into a protest against French President Emmanuel Macron, have continued despite the government's call for them to halt.
Since Nov. 17, thousands of protesters wearing bright yellow vests-- dubbed the Yellow Vests -- have gathered in major French cities, including Paris, to protest Macron's controversial fuel tax hikes and the country's deteriorating economic situation.
Demonstrators held protests blocking roads as well as the entrances and exits to gas stations and factories across the country.
Under pressure, Macron announced a rise in the minimum wage and scuttled the tax hikes.
Since then, however, the protests have grown into a broader movement aimed at tackling income inequality and are calling for giving citizens a stronger voice in government decision-making.
At least 10 people have died, around 6,000 have been detained and over 2,000 others have been injured in the protests.