Most Brits angrier since Brexit referendum - poll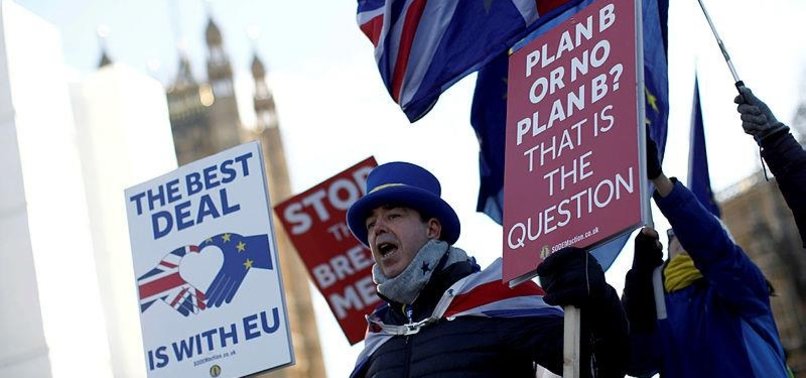 As the effects of the referendum come to a head, around two-thirds of British people are angrier since the landmark Brexit referendum of 2016, a new survey suggests.
As many as 17 percent of British people have fallen out with friends or family members over Brexit, a poll called "trust barometer" by communications firm Edelman also said.
About 65 percent of Britons think the country is "on the wrong track," including 82 percent of Remain voters but 43 percent among Leave voters.
The survey -- conducted among 2,000 people between December 2018 and January 2019 -- also found 40 percent of Britons think other people are now more likely to take part in violent protests.
After parliament rejected both her Brexit deal and a motion of no confidence, Prime Minister Theresa May is set to present her Plan B for a vote this week, with the Brexit divorce from the EU due to go live on March 29, just two months away.
- TRUST IN POLITICIANS DOWN
Levels of trust in the leaders of the U.K.'s two biggest political parties have both gone down, according to the poll.
Trust in May is 35 percent, but still higher than trust in Labour leader Jeremy Corbyn, at 26 percent, the survey found.
Some 35 percent of people polled said they were now reading, watching, or listening to more news as a result of Brexit.
The survey found 61 percent of people said their views were not being represented in British politics.
Some 72 percent of respondents said they thought life in Britain was unfair.
Some 68 percent said they wanted to see change, and 53 percent said they thought the socio-political system was failing them.
"We are a disunited kingdom-a country that is seen as increasingly unfair, less tolerant and headed in the wrong direction," said Ed Williams, Edelman's UK and Ireland chief executive.
"Brexit has exposed fractures that have split families and divided friends, made us meaner and angrier as a society, and stoked fears of violent protest and civil disorder," he added.