Philippines: Death toll from church bombing rises to 27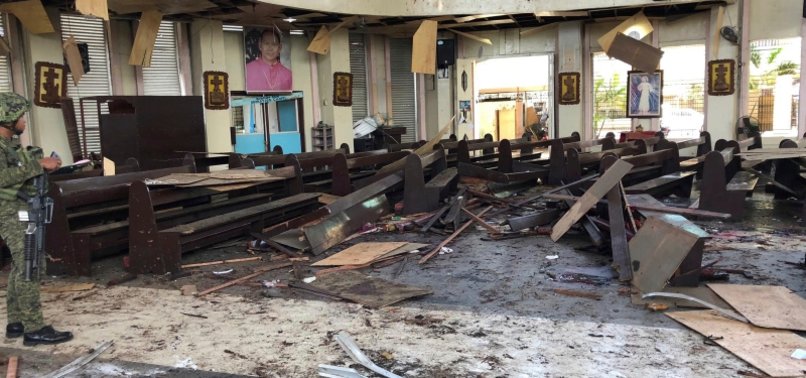 At least 27 people have been killed and several others injured after two bombs exploded at a church in the Philippines's southern Sulu province, local media reported on Sunday.
"We strongly condemn the bombing that transpired at the Jolo Cathedral in Barangay Walled City, Jolo, Sulu at 8.15 a.m. (0015GMT) today, just before the start of the holy mass that killed and wounded soldiers and civilians," Department of National Defense (DND) Secretary Delfin Lorenzana told reporters.
The Philippine army boosted their alert level to secure all places of worships and public places in the country following the deadly attack.
Turkey "strongly" condemned the attack, calling it an attempt to harm intercommunal peace in the region.
"We believe that this attack, which was carried out less than a week after the referendum in southern Philippines to establish a lasting peace in the region, will not achieve its aim of harming intercommunal peace in the face of the common will of the people in the region," the Turkish Foreign Ministry said in a statement.
The statement said Turkey shares the grief of people of Philippines and send condolences to the families of those who lost their lives and wishes speedy recovery to the wounded.
"Turkey will continue to stand with Philippines in its fight against terrorism, and to contribute to the peace process in southern Philippines," the statement added.
The Philippines' landmark Bangsamoro Organic Law (BOL) was officially ratified on Friday following a referendum win on granting comprehensive autonomy to Moro Muslims.
Ratification of the BOL means the Autonomous Region in Muslim Mindanao in the southern Philippines will be replaced with the Bangsamoro Autonomous Region in Muslim Mindanao.