Almost 700 detained as 'Yellow Vest' protesters gather in Paris
WORLD
Compiled from news agencies
Published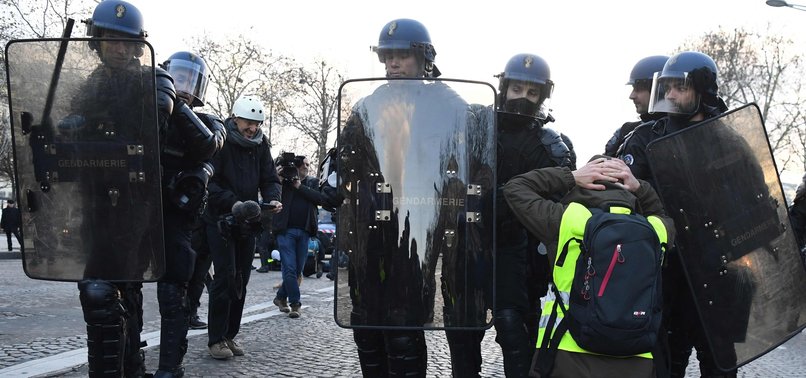 At least 700 people were detained in Paris ahead of planned Yellow Vest protests which started in mid-November, forcing the government to scrap plans to raise fuel prices, local media reported on Saturday.
Some 700 people have been detained by police in Paris as fuel tax protesters begin to gather for a third Saturday running, police headquarters said shortly after 9 am (0800 GMT).
Television images showed several hundred "Yellow Vest" protesters on the Champs-Elysees, after passing through strict police checks.
Last week, the area around the nearby Arc de Troimphe saw violent clashes that left more than 100 people injured.
Some 89,000 members of the security forces have been mobilized around the country, with 8,000 in place in the capital, backed up by gendarmerie armoured cars - a first for this protest movement.
Police said said that 32 of those arrested at an earlier point in the morning were being held for questioning. Many of those arrested were suspected of joining a gathering in order to prepare violence, destruction or vandalism, according to police.
President Emmanuel Macron announced earlier this week that the planned hikes in petrol and diesel taxes, which sparked the protest movement, would be cancelled outright.
But prominent protesters have insisted that they will descend on Paris anyway, speaking of wider demands including broader tax cuts and salary raises.
Authorities are taking no chances after last week's protests saw more than 100 people injured and more than 400 arrested.
The Eiffel Tower, the Louvre and several other museums, as well as the Opera and the Paris catacombs will all be closed on Saturday.
Opinion polls have shown widespread public approval for the Yellow Vests, named after the high-visibility safety bibs that have become the symbol and uniform of the movement.
Eric Drouet, one of the initiators of the protests, Friday called on people to protest on the roads and motorways surrounding the metropolis, "where there is nothing to break and nothing to destroy" but where they can "shout out" their anger.
Drouet had earlier in the week suggested protesters wanted to make their way to the Elysee Palace, Macron's heavily-guarded office and official residence.
More than half of football matches in France's top division that were scheduled for Saturday have been cancelled. Two women's European championship matches in handball were moved from Saturday to Sunday because of the protests.

During Saturday's protests, French police used pepper spray against Yellow Vest protesters along the Champs-Elysees.

Meanwhile, police in Brussels, Belgium, home to NATO and EU institutions, arrested around over 100 protesters ahead of and during the Yellow Vest protests.

Ilse Van de Keere, a police spokesperson, said that arrests were carried out around the Brussels central train station and the Schuman area.

Police in Brussels took tight security measures in the city center and the area where the EU Commission and Council are located.

Security forces in Brussels shunted Yellow Vest protesters onto side streets after the protesters blocked a tunnel between Turkey's Permanent Delegation to the EU and the U.S. Embassy.

Some protesters forced passengers going through the tunnel to wear or display the iconic yellow vests, which are supposed to be kept in vehicles' trunks for emergency situations, according to Anadolu Agency reporters on site.