French police use tear gas against protesters in central Paris
WORLD
Agencies and A News
Published
Police fired tear gas canisters at "yellow vest" protesters in central Paris on Saturday during a demonstration against the high cost of living. A police spokeswoman told reporters there were about 1,500 protesters on the Champs Elysees and authorities said hundreds of demonstrators had been placed under arrest after police found weapons such as hammers, baseball bats and metal petanque balls on them.
French riot police fired tear gas and water cannon in Paris on Saturday, trying to stop thousands of yellow-vested protesters from converging on the presidential palace to express their anger at high taxes and French President Emmanuel Macron.
Security officials imposed a lockdown on parts of central Paris, determined to prevent a repeat of the rioting a week ago that damaged a major monument, injured 130 people and tarnished the country's global image.
Blue armored vehicles rumbled across cobblestone streets from the Arc de Triomphe across toward eastern Paris as scattered demonstrations spread around the city. Police were mounted on horses and surrounded protesters with trained dogs. A ring of steel surrounded the Elysee Palace itself, as police stationed trucks and reinforced steel barriers in streets throughout the entire neighborhood.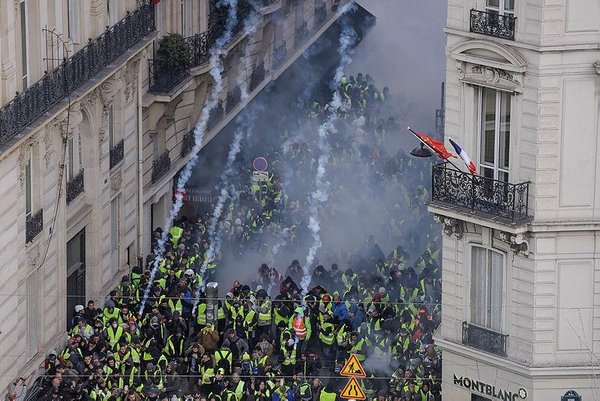 Associated Press reporters witnessed multiple protesters hurt in Saturday's clashes with police. Paris police said 30 people were injured, including three police officers. An AP video journalist was wounded in the leg as police fired tear gas and rubber bullets on the Champs-Elysees.
Some stores along the Champs-Elysee had boarded up their windows with plywood, making the neighborhood appear like it was bracing for a hurricane. Angry protesters on Saturday tried to rip the boards off.