Merkel loyalist wins German party leadership battle
Annegret Kramp-Karrenbauer, an ally of German Chancellor Angela Merkel, has been elected as the new leader of Merkel's center-right party. Kramp-Karrenbauer narrowly defeated Friedrich Merz, a one-time Merkel rival, at a congress of the Christian Democratic Union in Hamburg on Friday. She won 517 votes to Merz's 482 in a run-off. A third candidate, Health Minister Jens Spahn, was eliminated in a first round of voting. The 56-year-old Kramp-Karrenbauer has been the CDU's general secretary, in charge of day-to-day political strategy, since February.
Annegret Kramp-Karrenbauer, a close ally of Angela Merkel, won a tight race to succeed her as party leader Friday, seeing off a longtime rival of the German chancellor.
The contest, which required a runoff vote to secure a 52-percent majority for AKK as she is known, is expected to increase the likelihood that Merkel will be able to see out her fourth term until 2021.
AKK, 56, pledged to maintain continuity after 18 years of Merkel at the helm while opening up the Christian Democratic Union (CDU) to more grassroots democracy.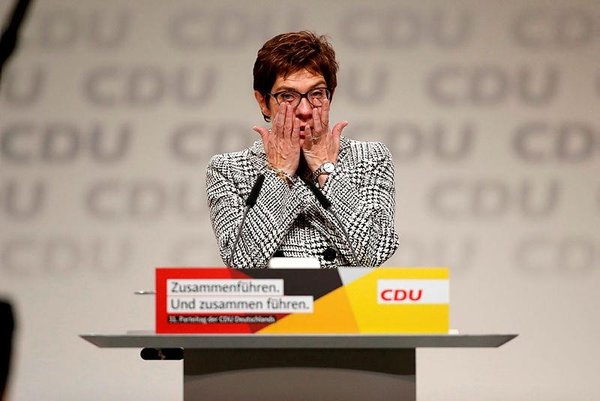 In a brief, upbeat address before the vote that brought many delegates to their feet, she called on the party to reject the politics of fear as the far-right makes inroads in Germany and Europe.
"We must have the courage to stay the course against the Zeitgeist," she said.