Brutal arrest of French students may lead to another protests
Footage showing the brutal arrest of high school students protesting outside Paris is causing a stir ahead of further anti-government protests this weekend. The footage, which has been shared widely on social media, has prompted trade unions and far-left parties to lash out at perceived police brutality. The images, which were filmed Thursday at Mantes-la-Jolie, showed a group of students on their knees with their hands behind their head. They are being watched over by armed police officers whose faces are hidden by ski masks. In one of the videos, a police officer can be heard saying: "Here is a class that behaves well."
Images of dozens of high-school pupils kneeling with their hands behind their heads during mass round-ups sparked an outcry Friday as France braces for more violence at "yellow vest" protests this weekend.
Leftwing politicians have expressed outrage at the videos, which have gone viral on social media, showing the teenagers kneeling as riot police barked orders at them.
"Whatever wrong was done, nothing justifies this filmed humiliation of minors," Socialist leader Olivier Faure tweeted.
"There is no need to pour even more oil on the flames."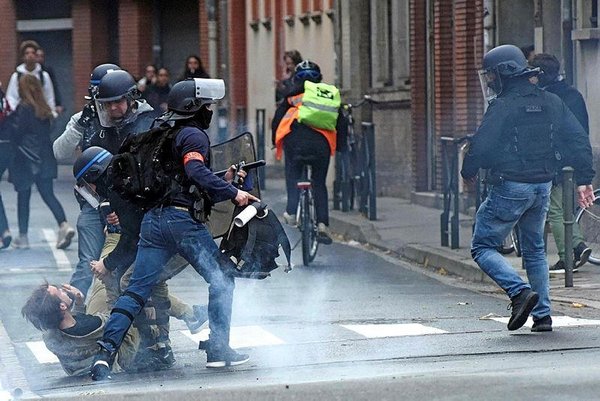 The students were detained Thursday in the Paris suburb of Mantes-la-Jolie, in unrest that has spread to dozens of schools during three weeks of anti-government demonstrations.
A total of 146 people were arrested outside the town's Saint-Exupery high school after protesters clashed with police and burned two cars.