French student protests intensify alongside 'yellow vest' revolt
Scores of protesting teens clashed with police at a high school west of Paris on Thursday, according to French news reports, as part of nationwide student actions over university admissions procedures and rising administrative fees. Drivers wearing their signature yellow safety vests continued to block roads around France, now demanding broader tax cuts and government aid.
Around 200 French high schools were blocked or disrupted Thursday by students protesting a raft of education overhauls, on a fourth day of action called to coincide with anti-government demonstrations which have rocked the country in recent weeks.
Dozens of people wearing face masks threw Molotov cocktails, torched trash bins and clashed with police in several cities during violent protests ahead of a call for nationwide demonstrations on Friday.
"The situations are quite varied, with total or partial blockages, barricades to control access, burning pallets," an education ministry official told AFP.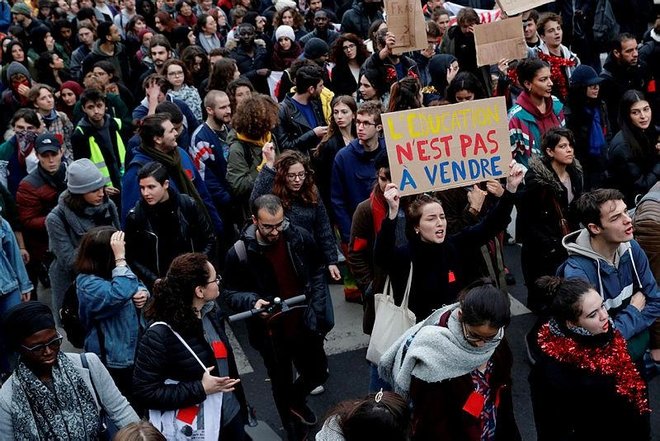 Although the students are demanding an end to testing overhauls and stricter university entrance requirements, they have seized on the momentum of the ongoing "yellow vest" protests against President Emmanuel Macron.
"We're the ones who are going to eventually have to pay higher fuel prices," said Ines, one of around 150 high school students demonstrating in the southern Paris suburb of Cachan.