Remembering Benazir Bhutto: First Muslim woman premier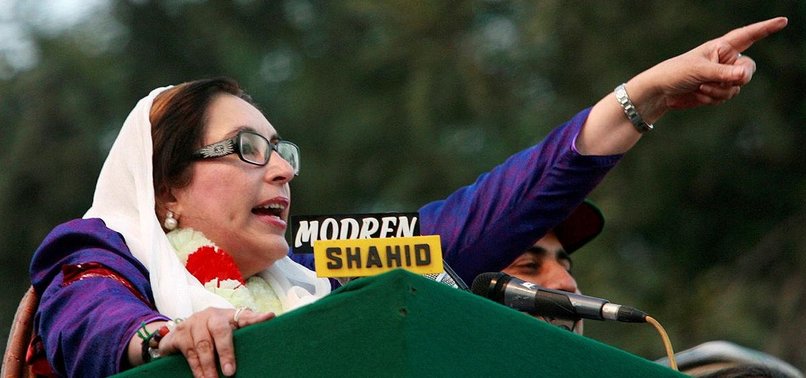 Benazir Bhutto, the first female Muslim prime minister, took oath of office on this day three decades ago.
She won the general election in 1988 after years of military rule in Pakistan by Gen. Zia-ul-Haq.
Benazir Bhutto was only 35 when she became premier of the Muslim-majority nation.
Her daughter Aseefa Bhutto Zardari remembered her in a tweet.
"30 years ago today Benazir Bhutto made history, at 35 my mother took oath as the Muslim World's first, youngest & only female Prime Minister," she tweeted.
Born in 1953 in Karachi, the southeastern port city of Pakistan, she was the eldest child of former Prime Minister Zulfiqar Ali Bhutto, who served as the country's first democratically elected prime minister from 1970 to 1977.
Benazir Bhutto, a Harvard and Oxford university graduate, entered the country's politics soon after her father's government was toppled in a military coup and he was sentenced to death.
She took reins of her father's Pakistan Peoples Party (PPP) and launched a movement for restoration of democracy against Gen. Zia-ul-Haq.
Fondly remembering her, Muhammad Tahir Khan, a senior party leader told Anadolu Agency: "She was young but very brave."
All of the senior party leadership was arrested and imprisoned by the military rulers, he recalled.
She was in self-exile in 1984 but continued the movement against Gen. Zia-ul-Haq.
Two years later she returned and continued her struggle.
In 1988, Gen. Zia-Ul-Haq was killed in a plane crash. Elections were announced in the country and the PPP won.
However, she developed differences with the powerful military establishment and a year later her government was dismissed by the president over corruption charges.
In 1993, she became the premier for the second time following general elections. But once again her government was dismissed in corruption charges.
In 1997, her party lost the general election and Nawaz Sharif became prime minister. Due to her political rivalry with Sharif, she left the country and went into self exile.
In 2003, Gen. Pervez Musharraf, a military ruler, filed several corruption cases against her and she remained in exile for nine years.
In 2007, Musharraf dropped all cases against her and paved way for her return to the country.
Soon after her arrival to Karachi in October 2007, a powerful suicide attack hit her rally killing over 130 people. Benazir Bhutto survived the attack.
Two months later, she was killed in garrison city of Rawalpindi during a public gathering when a suicide bomber first shot her and then blew himself up near her vehicle.