Nine deaths confirmed in California wildfire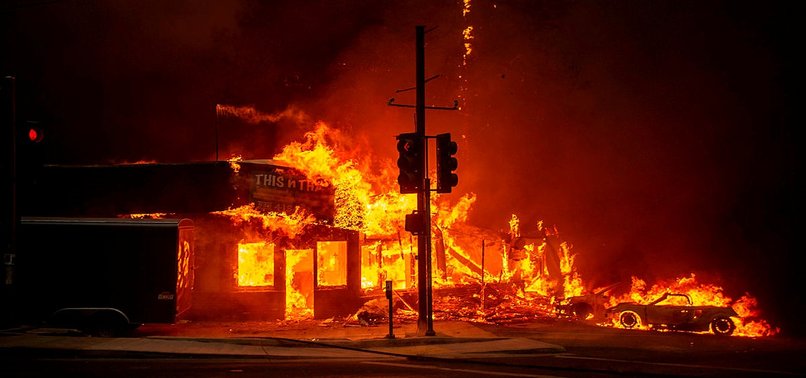 Deadly fires have forced evacuations from tens of thousands of homes in Northern and Southern California, as officials indicated Friday there have been several fatalities.
The number of people killed in a wildfire in Butte County in California has risen to nine, the Sacramento Bee newspaper reported late Friday, citing officials.
More than 6,700 buildings, most of them homes, have been destroyed in Butte County, making the so-called Camp Fire in the area the most destructive blaze in state history.
The northern California wildfire earlier claimed the lives of five people who apparently were trapped in their vehicles as they tried to flee, authorities said Friday.
The bodies were found in the small town of Paradise in vehicles that authorities believe were overcome by flames, the sheriff's office said in a statement. They could not be immediately identified because they were too badly burned, the statement said.
The Camp Fire, burning about 80 kilometres north of Sacramento, broke out early Thursday morning and spread rapidly. It forced evacuations and road closures in the county, causing traffic jams as people grabbed belongings and tried to get out.
According to the Sacramento Bee, the Butte County Sheriff's Office confirmed four more deaths in Paradise Friday evening. Three were found on the ground outside of residences, and one was found in a residence.
A team has been searching for other victims although conditions remain hazardous, the sheriff department's statement said.
A spokesman for the Paradise fire department said at least 1,000 buildings in the town of 27,000 people were destroyed, the Los Angeles Times reported.
More than 150,000 people have been evacuated across the state.
Governor-elect Gavin Newsom declared an emergency in Butte County to mobilize aid more quickly. He also declared an emergency in Los Angeles County and Ventura County, where two other fires have destroyed homes and other structures and caused road closures and evacuations, including in the picturesque coastal town of Malibu.
An estimated 2,000 firefighters are battling the blazes. Helicopters and air tankers have been deployed.
High temperatures and drought combined with strong winds to feed the fires. The National Weather Service, citing the extreme conditions, warned that additional fires could break out.