Atatürk's 80th death anniversary marked globally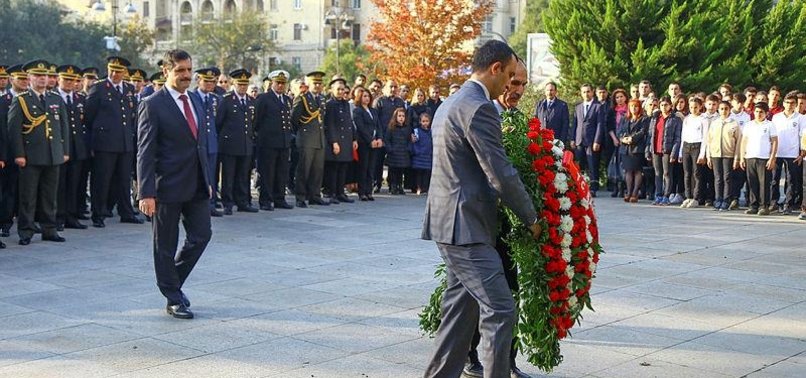 The 80th death anniversary of Mustafa Kemal Atatürk, the founder of the Republic of Turkey, was commemorated in many countries in Asia, Europe and the Middle East.
Turkish Embassy in Chinese capital Beijing organized a ceremony to pay tributes to Atatürk. Many Turkish citizens attended the event.
The attendees observed a minute of silence and sang Turkish national anthem.
Another ceremony was held in Turkish embassy in Azerbaijan's capital Baku. In addition to Turkish Ambassador Erkan Özoral, embassy staff and high school students in the country attended the ceremony.
Özoral placed a wreath on the monument of Atatürk and national anthems of Turkey and Azerbaijan were played.
The Turkish Embassy in Kazakhstan's capital Astana organized a ceremony with the attendance of Ambassador Nevzat Uyanik, representatives of Turkish institutions in Kazakhstan, Turkish diplomats and Turkish citizens living in Kazakhstan.
A short film on Ataturk's life was displayed in the ceremony.
- BIRTHPLACE OF ATATÜRK
Thousands attended the ceremony held in Greek city of Thessaloniki, the birthplace of Atatürk.
Turkish Consul in Thessaloniki Orhan Yalman Okan held a ceremony at the house in which Atatürk was born. Okan said that gathering at the house where Ataturk was born is very emotional for Turks.
"We commemorate him in every part of Turkey and globally but commemorating him in the house he was born is quite different," he said.
A separate ceremony was held at the Turkish Embassy in Athens.
During a ceremony in the Turkish Embassy in Moscow, Turkish Ambassador Huseyin Diriöz read Turkish President Recep Tayyip Erdoğan's message on the death anniversary of Ataturk.
In addition to Moscow, Turkish Embassy in Kyrgyzstan's capital Bishkek held a similar ceremony.
The death anniversary of Ataturk was also marked in Belgium with a ceremony hosted by the Turkish Embassy in Brussels and the consulate in Antwerp. Turkey's NATO Permanent Representatives' Office in Belgium also organized an event in this regard.
- BALKAN REGION
Turkish diplomatic representative offices in Bulgarian cities Sofia, Plovdiv and Burgas also organized commemoration ceremonies in the respective cities.
Embassy staff, Turkish nationals and NGO representatives attended the ceremony in Sofia.
Turkish Ambassador to Sofia Hasan Ulusoy said Ataturk gave a great importance to Turkish-Bulgarian friendship.
Children, who were guests at the ceremony in the embassy, visited Ataturk's office, where he served as a military attache.
In addition, Turkish embassies in Sarajevo, Belgrade, Zagreb, Skopje, Tiran and Pristina hosted ceremonies, which was attended by Turkish citizens and representatives of several institutions.
The death anniversary of Ataturk was also marked in the Hungarian capital Budapest, where a group of people observed a minute of silence in front of Atatürk memorial at Naphegy Square.
Turkish Ambassador to Budapest Ahmet Akif Oktay said Hungarians know Atatürk very well and Hungarian people mourned for Ataturk when he died.
- TURKISH WAR OF INDEPENDENCE
A separate ceremony was held in Turkish Republic of Northern Cyprus (TRNC), where President Mustafa Akıncı, Parliament Speaker Teberrüken Uluçay and Foreign Minister Kudret Özersay were also present.
Flowers on Atatürk memorial were placed and a minute of silence was observed.
In the Middle East, Turkish diplomatic representative offices hosted ceremonies in Egypt and Iraq.
The Turkish Embassy in Cairo and the consulate in Erbil organized ceremonies to mark the death anniversary of Atatürk.
Atatürk was born in 1881 in Thessaloniki, in what was then the Ottoman Empire. He made his mark in the military in 1915 when he led forces to repel the allied invasion in Çanakkale, known in the West as the Dardanelles.
Following the collapse of the Ottoman Empire after the World War I, Atatürk led the Turkish War of Independence, which defeated European powers. When he became president, Atatürk transformed the former empire into a modern and secular country.
Atatürk passed away in Istanbul on Nov. 10, 1938, at the age of 57.