'Turkey comes as savior of Europe on refugee issue'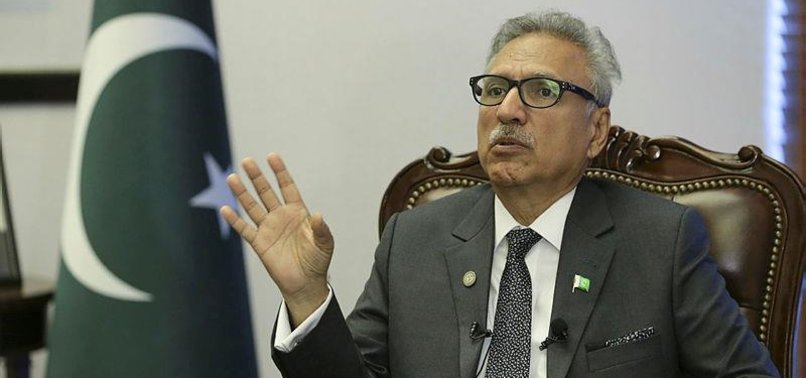 Pakistan's newly elected President Arif Alvi said Turkey has been holding a sizeable population of refugees, describing the country as "a savior" of Europe and other countries.
Alvi spoke exclusively to Anadolu Agency in Istanbul where he attended the opening ceremony of Istanbul Airport, which is among the world's largest airports.
Alvi, a close confidant of Prime Minister Imran Khan, was elected as the country's 13th president on Sept. 4.
He is among the founding members of the ruling Pakistan Tehreek-e-Insaf Party (PTI).
Alvi, a dentist by profession, was born in 1949 in the southeastern port city Karachi, two years after his family migrated to Pakistan following the end of British colonial rule.
In 2013, Alvi won the first National Assembly seat from Karachi, which he retained in the recent July 25 general election.
However, the prime minister nominated him as his party's candidate for the office of the president.
QUESTION: How will bilateral relations between Turkey and Pakistan progress in the coming period, particularly in the new term, and how will bilateral ties further advance?
ANSWER: There are a few points I want to share. Both Turkey and Pakistan pursue an independent foreign policy, have no dependency on any other countries and follow their own national interest in the region.
Both countries have similar experiences, Pakistan in the context of Afghanistan and Turkey regarding Syria. Pakistan is hosting Afghan refugees since 1980s and at one point we were hosting 3.5 million (Afghan) refugees.
Turkey is in a similar position as it is hosting a large number of Syrian refugees. We have observed that the world at times becomes indifferent to the refugees' wellbeing and the host countries are left alone, although these people became refugees because of global agenda of the powerful countries.
Things could have happened in a better way, if such wars were not there. Now what happens because of these wars and proxy fights, there are people who live in poverty.
They face hunger and therefore they start migrating. Turkey has become a savior that is in essence protecting Europe from the refugee's migration. Turkey is indeed hosting a sizeable population of refugees.
The world doesn't help, but ignores the plight of these refugees whereas countries like ours are left handling the social impact of these atrocities which happen on our borders.
Similarly, Pakistan-Turkey have excellent relations and Pakistan has always stood by Turkey's position on Cyprus, historically. What is Turkey's position on Cyprus is Pakistan's position.
Turkey has stood by us on the Kashmir issue. Both countries support [each other] on all international forums. Turkey has extended us support on Nuclear Suppliers Group.
I myself was an elected councilor of the World Dental Federation and I visited Turkey once when there was a conference here, and Turkey's Dental Federation and Pakistan's Dental Federation have always voted together on every issue, irrespective what was the issue.
So, I think, these ties have to be further cemented by good trade. The brotherly relations are old. Starting from the Khilafat movement in early part of the 20th century.
My father worked for it, many other people like Muhammed Ali Jouhar, Maulana Muhammed Ali and Shaukat Ali, they worked for the Khilafat movement. And I think that started the appreciation between both of us.
Moreover, both Pakistan and Turkey have similar position on the reform of the United Nations. We are part of the Uniting for Consensus (UfC) group. However, our trade ties needs promotion.
QUESTION: In this regard, does the new Pakistani government plan to support Turkish investors? Will it take steps to reinvigorate negotiations on a Free Trade Agreement (FTA)?
ANSWER: Yes, both countries are pursuing signing a Free Trade Agreement and there have been seven rounds of discussions. I am here to request my brother Mr. Recep Tayyip [Erdogan], His Excellency, the president of Turkey, on the issue of concluding the negotiation as soon as possible. So a very structured trade can start. Both Turkey and Pakistan face economic challenges, there has been devaluation of Turkish lira and there has been devaluation of Pakistan rupee. We depend on each other rather to improve our economies.
QUESTION: Thank you Mr. President. We have a burning issue here at home that we call FETO. Turkish public has difficulty in understanding why Pakistan has not taken much action against FETO structure in Pakistan and especially handing over of the schools despite all the historical relations Your Excellency mentioned. Why has there not been much progress in that area?
ANSWER: In my constituency from where I was member of parliament in the past, there were the FETO-affiliated schools. However, keeping in view the sensitivities of the Turkish government, the administration of these schools was suspended and transferred to an entity that the Turkish Government wanted to.
So, I can assure you that these are all created misunderstandings. Sometimes it happens in Pakistan as when some action is taken, the aggrieved person goes to the court of law and the government has to obey the court orders, although government defends its decision in the court hearings.
Court decisions take some time, but as far as I am concerned, we have a clear decision to hand over these schools to Turkish authorities.
I have witnessed the intrigues under which the the AK Party went through and the Turkish democratic institutions faced the challenge.
Pakistan provided unconditional support to Turkey when the failed military coup happened in 2016, the Parliament of Pakistan passed resolutions in support of Turkish democracy and its leadership, and people in all-parties parliamentary solidarity delegation visited Turkey to show our support for Turkey.
I have always admired President Erdogan. As the AK Party and its government were working for the people, the people then stood behind it. The people stood in front of tanks. This is a lesson for the entire Muslim world. Particularly in emerging democracies, if services are done for the benefit of the people, with honesty, people feel that you are the true leaders and you are leading the country out of crises; people stand by you. I admire President Erdogan and the AK Party for that kind of services.
QUESTION: How do you assess relation between Pakistan and Afghanistan? Of course, they are neighbors. Can Turkey play a role in strengthening bilateral ties of Pakistan and Afghanistan?
ANSWER: Yes, I think Turkey has played a very positive role in working for peace in Afghanistan. The resurgence of Pakistan and Turkish foreign policy -- I'm calling it resurgence -- is an understanding that we had to stand on our own feet, is the understanding that we should not be dictated to, is the understanding that our relationships with other countries should be based on dignity and the requirements of the peace.
Pakistan can play a very important role in Afghanistan crisis. What we have been saying for the last 15 years is that the Taliban should be brought into the equation, only then there will be peace. The Unites States government has started on that same process. And Pakistan government can play a very important role in bringing peace.
Our interest in Afghanistan is only peace. We don't have any other interest. We believe it is a Muslim country right next to our borders. We believe that it has gone through so much of turmoil with the Soviet invasion and then with the Taliban ouster and then with the bombing etc. It creates human misery for whatever reason.
We also believe that our relationship with Iran has to be good, it is our brotherly country also. It should remain good. China is also our friend on the border and CPEC, China-Pakistan Economic Corridor, and other processes which are linking that region (under) the One Belt One Road process to Gwadar port.
There is so much which Turkey can invest in Pakistan by increasing tourism. I think in Pakistan you will find most beautiful places. For example, Attabad lake in Hunza Valley: it is a natural, beautiful lake.
Pakistan can look for tourism specially from Turkey and Turkish help in developing tourism, Turkish investment in Pakistan in energy sector, in railways, in infrastructure development. Turkey can do a lot in minerals and mining etc. Turkey has a lot of experience, it can do a lot.
QUESTION: Is there any effort from Pakistani side to bring Taliban to negotiation table?
ANSWER: Yes, recently, Pakistan has made a lot of efforts regarding that; some release of prisoners has also taken place.
QUESTION: [What about] Mullah Baradar [co-founder of Afghan Taliban] who Islamabad released recently?
ANSWER: Yes, Mullah Baradar. The only way peace can come into Afghanistan is by bringing everybody on the table with understanding.
You cannot bring peace by just insisting that there should be a cease-fire. There should be confidence-building measures toward peace. Ramadan cease-fire and during the Eid festivities, I think that also gives the message to Afghani people that peace can be made quickly. Peace is what can change their lives.
If you go through, you can understand the pain of the [Afghan] people. Hundreds, thousands [were] killed in this war, so the people cannot bear that brunt forever.
QUESTION: Is Pakistan seeking other partners in CPEC? Has China raised any objections to inclusion in CPEC-related projects, especially in the oil refinery in Gwadar? What are your expectations from Turkey with respect to the CPEC?
ANSWER: China-Pakistan Economic Corridor started with the road from north to south up to Gwadar. It started as a conception of movement as far as trade is concerned.
If you remember when we [Pakistan and Turkey] were together in RCD [Regional Cooperation for Development established by Turkey, Pakistan and Iran in 1964], there was an RCD highway concept coming from Pakistan to Iran to Turkey.
So, when you establish a highway, that highway is for people and for goods. So, CPEC is also a highway for people and goods. With that highway around, we are looking for developments all along that road and for transport of goods.
As far as those developments are concerned, all partners of Pakistan are partners in CPEC also. There is no formal organization for partnership but it is a bilateral situation. In a lot of businesses and industries, Turkey can help us and like I said, improving trade relations between Pakistan and Turkey, an area of investment for Turkey, area of business for Turkey, Turkish businessmen in Pakistan.
It cements relationships, I think that is urgently needed, we will welcome Turkish participation in CPEC corridor.
QUESTION: Another question regarding unsettled problem of Islamic World, despite UN Security Council's involvement. Day before yesterday, it was "Kashmir Black Day". How does Pakistan propose to resolve the conflict in Kashmir? Does it plan to take measures to normalize relations with India? Is it likely negotiations restart between the two countries?
ANSWER : Pakistan thinks only peace and negotiations can lead to solution on Kashmir, based on UN resolutions. What is happening, there are so much atrocities in Kashmir like indiscriminate use of pellet guns that are blinding people. There is total blockage of news. Whatever happened in Palestine, in Gaza, similar things are happening in Kashmir. With the excuse of terrorism, these countries are suppressing the aspirations of the people who want liberation of their lands. Such struggle is welcomed everywhere in the world but wherever the Muslims situation is involved, the world is looking the other way.
I believe that on the Palestinian issue should be resolved on the basis of pre-1967 borders, and the Jammu and Kashmir issue on the basis of UN resolutions. I appreciate Turkish support that always raised voice for the oppressed people of Indian occupied Kashmir.
Turkey has played good role as far as Palestine is concerned. Similarly, Pakistan has played its due role as far as Cyprus issue is concerned.
As soon as the current government came to power, prime minister of Pakistan wrote a letter to the prime minister of India. He first agreed to "let the foreign ministers meet" but later that invitation was rejected.
QUESTION: What is the reason behind rejection?
ANSWER: Personally, I think it is Indian politics and the prime minister of India was planning for an election and the way the hatred has been increased against Pakistan, sometimes the politicians are entrapped in their own slogan mongering. Their own slogans entrap them and make them not go forward.
This was the best occasion. The best thing the new government could do is this offer, "lets come and talk." If you don't want to talk due to this excuse or that excuse, I think it's a big disservice to the people of Kashmir by India in its intransigence for not talking on issues.
In fact, whenever that discussion takes place, they look for other issues -- sometimes to not to talk. And then government of India keeps on insisting that "it has to be only bilateral discussions." You say about bilateral discussions but you don't do that discussion. So, I think that it was what happened.
QUESTION: Do you see any change in Trump administration's policy vis-a-vis Pakistan?
ANSWER: I think what Pakistan is insisting on is that both the U.S. Administration and Pakistan are interested in having peace in Afghanistan.
Secondly, Pakistan is interested in a dignified relationship which I think should be the objective of the U.S. government also. Pakistan is interested on a relationship which leads to more peace rather than it leads to more confrontations.
I believe there is a reset of our relationship. I think, a meeting of foreign minister of Pakistan with the US counterpart is a good omen.
We both want peace. May be our point of views are slightly different but they can converge for peace. I think it is a good relationship.
QUESTION: How should Muslim countries react to the U.S. relocation of its Israeli embassy to Jerusalem?
ANSWER: Pakistan, like the entire Muslim world, has not appreciated that process. Palestine issue got complicated after the U.S. shifted its embassy to Jerusalem. Because, until 1967 and the position of the Islamic organizations and countries has always been that Jerusalem is a shared international city.
It can be capital of both Palestine and Israel. You can't suppress people for long.
A Palestinian is born and in five years or ten years, they start picking up stones for hitting. For how long can this go on?
Even there are good voices in Israel, who are looking for the fact that confrontation of these issues will not lead to peace, and if you don't have peace on your border, you can raise your walls but you can't have peace.