President of Pakistan: Turkey-Pakistan share same stance on Syria, terrorism and defense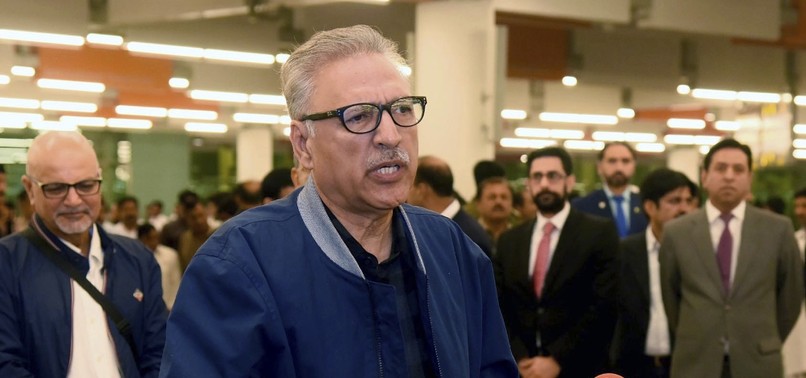 Pakistan is ready to strengthen its historical bonds with Turkey while fully cooperating with Ankara on several issues, the Pakistani president says
Speaking to Daily Sabah, Pakistani President Arif Alvi highlighted the historical tie between Turkey and Pakistan – from the fight against terrorism to commerce and military – and how it has grown on a framework of mutual trust.
Alvi said Pakistan fully supports Turkey's national security interests in regards to PKK existence in northern Syria. He added that the situation is the same for the refugee issue. He said that the world has forgotten about Syrian and Afghan refugees, while Turkey and Pakistan spend energy and resources unraveling crises created by others.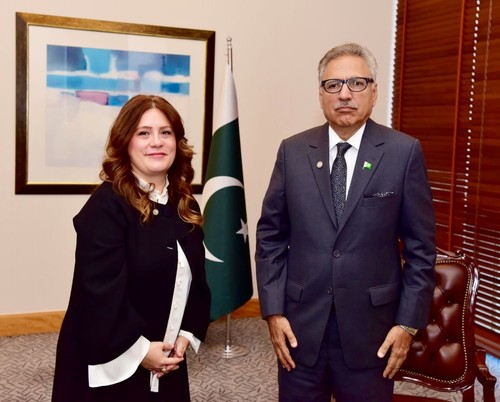 He said that both countries aim to establish defense industries not dependent on other countries. Alvi underlined that the new Pakistani government is bent on carrying out joint projects with Turkey.
Historical brotherhood between two countrıes
The Pakistani president cited the historically strong ties between Turkey and Pakistan, which are reflected in the international order. He evoked Turkey's support for Pakistan in terms of Pakistan's position on nuclear supply. He also said that the two countries were in consensus on reforming the United Nations, to provide the global organization and international voice.
Alvi further mentioned the mutual support between the two countries, saying: "Turkey has supported Pakistan's position in Kashmir and Pakistan has supported the Cyprus issue. Pakistan also stood by Turkey's democracy in 2016."
"We sent our delegation here, we passed resolutions in our assembly. We have passed resolutions in the assembly in support of whatever is happening here. Pakistan and Turkey [have] always stood together in these cases," he added. The Pakistani president further stressed that Turkey and Pakistan have intimate relations, Alvi said that Ankara and Islamabad have encountered similar situations in Afghanistan and Syria. "We hosted 3.5 million refugees from Afghanistan in the peak days of the Sovie-Afghan war. Turkey is hosting the same number of people from Syria today. I think there is a commonality in our situations, direction and causes. I think the entire Muslim Ummah [community] looks at Turkey and its historical role in the world as well as the Muslim world, as [those] who have spread democracy in the world like Turkey and Pakistan to get out of these crises because we are going to a tremendous crisis [point]. There is so much of killing, so much of economic downturn and refugees," Alvi added.
Same experience on battling with terrorism
Stating that Pakistan has halted destruction that terrorism could have caused, Alvi said that Pakistan stood against the pressures that aimed to create disunity.
"Pakistan today has more experience in handling terrorism. We have sacrificed more than 70,000 lives, including military officers, and more than a hundred billion dollars that affected our economy. Therefore, Turkey and Pakistan have similar experiences. I think that we know more than any other country as Pakistan is tackling, Turkey is tackling terrorism. I think we would both manage it," Alvi said.
No tolerance for FETÖ in Pakistan
Pointing out that Pakistan stood by Turkey in the aftermath of the July 15, 2016 coup attempt, Alvi said that they cannot tolerate people in other countries with efforts to destabilize the Turkish nation. Alvi added that the schools operated by the Gülenist Terror Group (FETÖ) in Pakistan were transferred to the Turkish government as Ankara had demanded.
Alvi also underscored that such organizations are not unique to the country, they operate trans-governments and should not be glossed over.
Cooperation on defense; not to depend on major powers
In relation to the cooperation between Pakistan and Turkey in the defense sector, Alvi said that the two countries think alike and share certain common platforms, enabling the two countries to help each other.
Underlining that enriching the defense sector only serves peace, Alvi said both countries have been exerting efforts to become independent in the sector and decrease their dependence on major powers.
Alvi said that there are numerous projects right now on the cards, where discussions are already taking place and his wish is to see the finalization of these projects while underscoring the presence of further opportunities for both countries.
"Pakistan is opening up for international investments with stable policies. It may provide good returns for Turkish businessmen. Communication between the governments may be increased to establish roads such as the intellectual road or China-Pakistan Economic Corridor," he added.
The world has forgotten the refugee issue
Whilst Turkey is hosting approximately 3.5 million Syrian refugees, who have fled from the Bashar Assad regime, Pakistan also became a shelter for Afghan refugees who had been forced to flee their homes. In relation to this issue, Alvi said that Turkey and Pakistan think alike on the refugee issue. He said the world has forgotten and does not care about refugees. "I think the Turkish interests have to be protected because there is destabilization, particularly in the northern region of Syria. We think alike in [terms of] the policies concerned. So, I don't see any issue other than the fact that there are so many players in Syria. So, we are looking for a final resolution in Syria, as the position of Turkey. Pakistan's position always matches with the position of Turkey. We are good brotherly countries and we support each other. Similarly, the Turkish position, our concern in Afghanistan is entire to Pakistan's interest. They have supported us here. Both countries wanted peace in the region because it affects our borders, it affects our economy. Can you imagine Turkey hosts 3.5 million refugees? Does that not affect the economy of Turkey?" Alvi asked. Highlighting that similar to Turkey, Pakistan also hosts refugees who fled from war in Afghanistan in the 1980's, Alvi stated that the third generation is coming from its neighboring county and it affects their economy, however, he reiterated that the world has forgotten about it. "People created a crisis, powers created a crisis and we are left holding the dirty bags of that era. These refugees are dear to us. They have lives. They have to be supported," Alvi stated.
Khashoggi's killing has to come to a resolution
Answering a question about the murder of columnist Jamal Khashoggi, who went missing after entering the Saudi Consulate in Istanbul on Oct.2, Alvi said that he considered the death as an important global issue. "I think developments have taken place where the Turkish government and Saudi government are cooperating in the investigation.
I think that is tremendous. I think there has to be a resolution on something that happened which was not good, and I think both these governments should be able to investigate and come to a resolution on this crisis, and it should not have happened," Alvi said.
Turkey made great strides in its economy
In July Pakistan went to the polls, and Prime Minister Imran Khan celebrated his victory in the general elections, Alvi conveyed his opinions by stressing that "Pakistan is the sixth-biggest country in the world and Pakistan's economy has the potential of being one of the six biggest economies in the world. Pakistan is on the crossroads of change. I think Pakistan has brilliant prospects with the new government, and with the Prime Minister Imran Khan."
Harmonizing the current situation in Turkey and Pakistan, Alvi proclaimed "I think such countries like Turkey have a long history. I think these countries dare to stay they have played their own role.
Therefore, at the same time, I look at Turkey and I think that under the leadership of Erdoğan, Turkey has made great strides in the economy, except for the recent crisis against Turkey and the Syrian crisis. Turkey should be able to override that."

Daily Sabah / Nur Özkan Erbay