N. Ireland police probe KKK pose outside Islamic center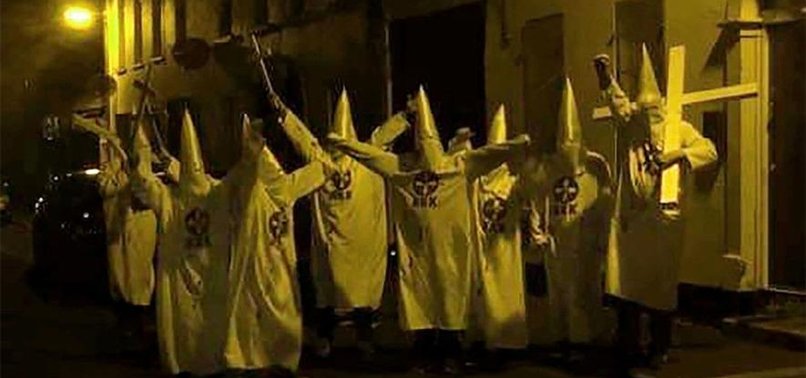 Police in Northern Ireland said they are probing an incident after photographs showing a group of people dressed as Ku Klux Klan (KKK) members posing in front of an Islamic center emerged on social media over the weekend.
A statement by the police said they received a report on Sunday "about a group of people dressed as Ku Klux Klan members in the vicinity of Greenwell Street in the town on Saturday night."
"We are also aware of images that are circulating that show people dressed as Ku Klux Klan members," police inspector Richard Murray said.
"Our enquiries are ongoing, and we are treating this as a hate incident at this time," he added.
"Hate crime, in all its forms, is totally unacceptable. It is the responsibility of each and every one of us to ensure that we live in a society where diversity is respected," Murray said.
Police were urged to investigate the photographs spread on social media over the weekend.
The group of around 10 people is pictured in a threatening pose with fists raised outside Newtownards Islamic Centre, the local media, including the Belfast Telegraph reported.
Kellie Armstrong, a member of local legislative assembly (MLA), called the photographs "unacceptable" and said she will be asking police to investigate the incident and examine CCTV footages to identify the individuals posing in the photographs.
- 'HATE INCIDENT'
"I've seen the pictures on Facebook and social media of this group of men, women or whatever," she said.
"Some people might try to say they were out for Halloween but I'd have to say if that's the case then these are certainly not the most appropriate costumes to be wearing," Armstrong added.
She said: "Everyone knows the history of the Ku Klux Klan, what they stood for, the crimes the organization committed and the connotations these outfits convey. This was not a mistake or an unfortunate choice of outfits."
The KKK is a well-known racist group founded in the U.S. by white supremacists.
"I certainly hope the PSNI [Police Service of Northern Ireland] are looking into it and I would see this as a hate incident," Armstrong said.
Another MLA from the Democratic Unionist Party, Peter Weir said the group "photographed outside the Islamic center clearly shows malevolent intent."
He added: "It is totally unacceptable."
The Islamic center was targeted by Islamophobic acts in 2017 after a pig's head was left at its door and graffiti painted on the building.