Major floods in Venice force evacuation of St Mark's Square
WORLD
Compiled from wire services
Published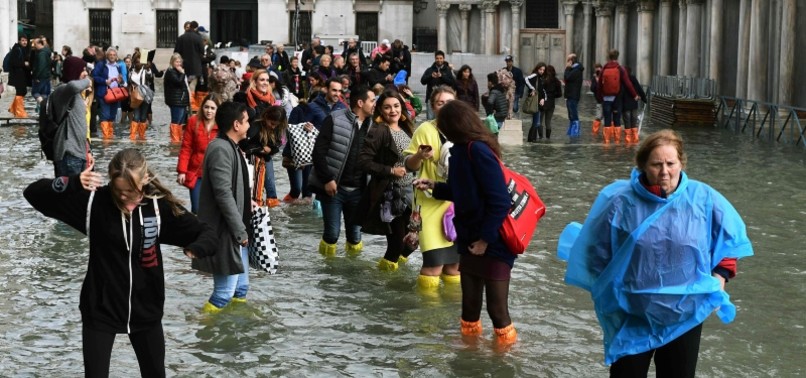 Venice's St Mark's Square was evacuated Monday as the lagoon city was hit by major floods, amid a nationwide weather alert across Italy.
The high tide reached a maximum of 156 centimeters at 2:40 pm (1340 GMT), the highest level in 10 years and which left more than 70 per cent of Venice's historic center under water, local authorities said.
"As a precaution we opted to clear tourists from [St Mark's] Square," Venice Mayor Luigi Brugnaro said in a video from the flooded scene that was posted on his Twitter account.
The waters have only topped 150 centimeters five times before in recorded history. In 1966, when floods swept through the country, famously devastating Florence's historic center, the waters reached 194 centimeters in Venice.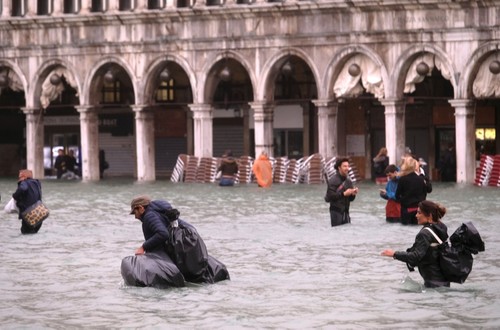 Families carried children on their shoulders through the surrounding streets. While some tourists donned thigh-high wellies, others had opted to take off their shoes and wade through the water.
The exceptional tide also forced the temporary suspension of public transport ferries within Venice, said local transport company ACTV on Twitter.
The forecast had been for an even stronger high tide of 160 centimeters above a zero reference point at the southern entrance of the Grand Canal. It would have been the biggest since 1979.
The worst flooding in modern times for Venice was a 194-centimetre high tide in November 1966, when floods also devastated Florence.
Civil protection officers were on high alert in many parts of Italy as heavy rains and strong winds plagued much of the country.
In the province of Frosinone, south of Rome, two people died after a tree fell on their car, while in the southern region of Calabria, a man was reported missing.
According to the ANSA news agency, the missing man was the skipper of a boat that crashed against a pier Sunday trying to enter the port of Catanzaro during stormy weather.
Rail and motorway traffic near the Brenner pass, which links Italy to Austria, was temporarily suspended both on Sunday and Monday, and parts of the Milan-Bologna motorway were flooded.
As a precaution, schools were closed in several areas, including in the northern Veneto and Liguria regions, in parts of Abruzzo and in Rome.