Pakistan marks 'Black Day' to express solidarity with Kashmiris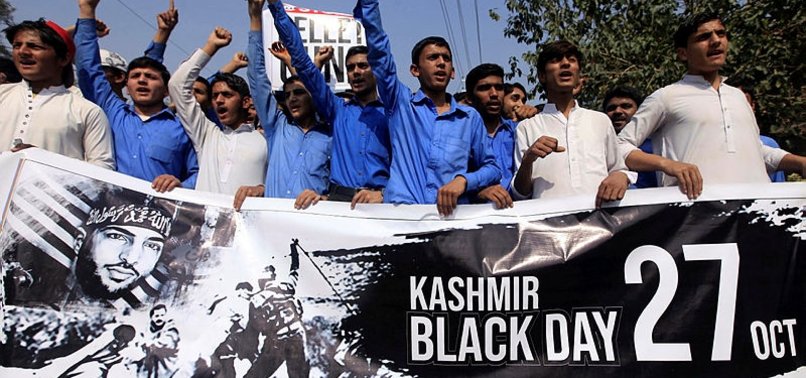 Pakistanis on Saturday observed 'Black Day' to mark the Indian occupation of Kashmir and hold prayers for the Kashmiris who lost their lives in the conflict.
Pakistan marked "Black Day" on Saturday to express solidarity with the people of Kashmir under Indian rule on the 71st anniversary of the dispute over the region.
The day began with a moment of silence, bringing traffic across the country to a halt for a minute as a mark of solidarity and support for Kashmiris.
On Thursday, the government urged the public to wear black armbands and hold prayers for the Kashmiris who lost their lives in the conflict in Indian-administered Kashmir.
Political, social, and human rights activists held rallies in cities such as Lahore, Islamabad, Peshawar, and Muzaffarabad to protest the "illegal occupation" of the valley and demand the United Nations implement relevant resolutions.
On Oct. 27, 1947, Indian troops positioned themselves in Kashmir's largest city, Srinagar, after India and Pakistan gained their independence from British colonial rule. The anniversary of this Indian action is observed by Pakistanis and Kashmiris as "Black Day", while India commemorates it as "Accession Day". The region has been a source of tension between India and Pakistan ever since.
In 1989, Kashmiri resistance groups launched a campaign for independence or unification with Pakistan, leading to more than 70,000 deaths. India maintains more than half a million troops in the region.
In separate messages, Pakistan's president and prime minister reiterated their unflinching diplomatic and political support for the cause of the people of Kashmir.
"We pay homage to the sacrifices of our brethren in Occupied Kashmir and reiterate our unflinching and steadfast moral, diplomatic, and political support for the just cause of the people of Indian-occupied Jammu and Kashmir," President Arif Alvi said in his message.
Premier Imran Khan said the day was a tragic one in the history of South Asia.
"Pakistan will not relent in its moral, political and diplomatic support until the Kashmiris realize their legitimate right to self-determination in accordance with UN Security Council resolutions," Khan reiterated.
Citing a June UN report on Kashmir, Khan said it acknowledged how Indian policies of occupation include well-documented human rights atrocities.
Kashmir, a Muslim-majority Himalayan region, is held by India and Pakistan in parts and claimed by both in full. A small sliver of Kashmir is also held by China.
Since they were partitioned in 1947, India and Pakistan have fought three wars -- in 1948, 1965, and 1971 -- two of them over Kashmir. Kashmiri resistance groups in Jammu Kashmir have been fighting against Indian rule for independence, or for unification with neighboring Pakistan.
Pakistan managed to take one-third of the Himalayan Valley in the wake of the 1948 war, with the remaining two-thirds of Kashmir going to India.