Constitutional committee for Syria needed as soon as possible - Turkey's Erdoğan
WORLD
Agencies and A News
Published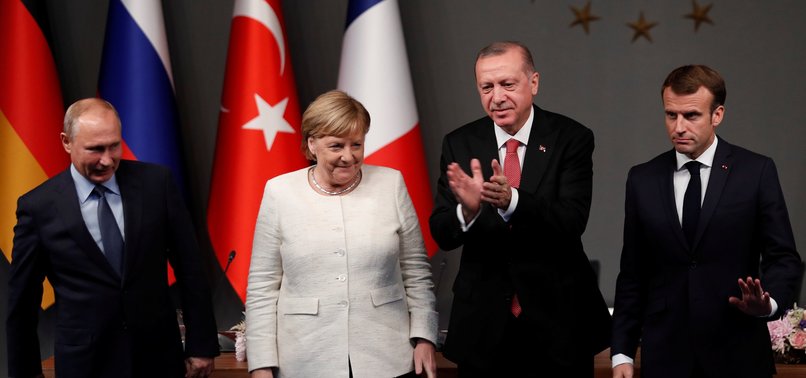 A committee to draft a constitution in Syria should be ready by the end of this year, leaders from Turkey, Germany, France and Russia have agreed, Turkish President Recep Tayyip Erdoğan said. "We have called for the process of forming a constitutional committee to be finalized as soon as possible. Our desire is it is formed by the end of this year," Erdoğan told a joint press conference with the three leaders.
The leaders of Turkey, Russia, France and Germany have discussed the war in Syria at a summit, reiterating calls for a U.N.-backed political process to end the war that has killed hundreds of thousands of people.
A final statement Saturday from the four leaders also calls for the convening of a committee by the end of the year to work on constitutional reform as a prelude to free and fair elections in Syria. It also supports efforts to facilitate the "safe and voluntary" return of refugees to their Syrian homes.

The statement also spoke of "the need to ensure humanitarian organisations' rapid, safe and unhindered access throughout Syria and immediate humanitarian assistance to reach all people in need."

The statement also rejects "separatist agendas aimed at undermining the sovereignty and territorial integrity of Syria as well as the national security of neighboring countries."

Following a Syria summit in Istanbul Turkish President Recep Tayyip Erdoğan along with Russian President Vladimir Putin, German Chancellor Angela Merkel and French President Emmanuel Macron held a joint news conference calling on the international community to work hand in hand for a sustainable solution in Syria.
A constitutional committee for Syria should be formed as soon as possible, Turkish President Recep Tayyip Erdoğan said on Saturday, adding that he hoped it would be formed before the end of the year.
He made the comments following a four-way summit on Syria in Istanbul with Germany's Angela Merkel, France's Emmanuel Macron and Russia's Vladimir Putin.

Erdoğan said the four leaders discussed the return of refugees to Syria and they agreed that the returns should be voluntary.
"We have discussed a political solution in line with Syrian people's legitimate demands which moves to reach stability in the country," Erdoğan told reporters.
"Our aim is to reach a complete cease-fire to halt bloodshed," he said, adding that the four nations agreed to increase cooperation among themselves and at the international level on the issue.
Many obstacles to a peace agreement remain. They include divided opinions about Syrian President Bashar Assad, who is backed by Russia and Iran. Western countries, meanwhile, condemn Assad for what they call indiscriminate attacks on civilians and Turkey has been helping insurgents trying to remove him from power.