US senator calls for blocking arms sales to Saudi Arabia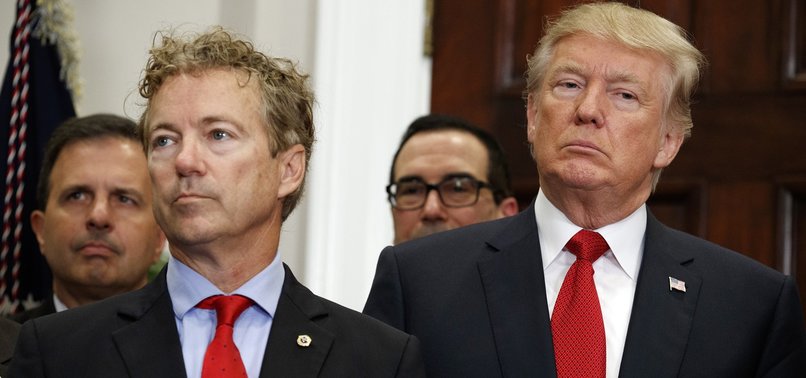 Sen. Rand Paul, R-Ky., a longtime critic of the Saudi government, has said he'll try to force a vote in the Senate blocking U.S. arms sales to Saudi Arabia. Sen. Chris Murphy, D-Conn., said it would be time for the U.S. to rethink its relationship with Saudi Arabia if it turned out Khashoggi was lured to his death by the Saudis.
U.S. Kentucky Senator Rand Paul on Wednesday demanded a halt in military support to Saudi Arabia until a Saudi journalist who disappeared in the Consulate in Istanbul was "returned alive".
Jamal Khashoggi has been missing since Oct. 2, when he visited the Saudi Consulate in Istanbul, amid speculation that he was killed by Saudi authorities.
In an article in The Atlantic, Paul said that he intended to introduce legislation to "cut all funding, training, advising, and any other coordination" with and to the Kingdom until Khashoggi is confirmed to be alive.
"The regime must be held accountable for Jamal Khashoggi," he said.
Slamming the Saudi "oppressive regime", Paul expressed "deep disappointment" with his fellow senators for not taking measures earlier.
"No amount of oil business or arms deals justifies our collusion with a regime that sponsors jihadism around the world," he said.
He also criticized the OPEC nation's "reckless" actions in the Yemen conflict.

TRUMP RAISES ECONOMIC CONCERNS OVER HALTING SAUDI ARMS SALES
President Donald Trump says the U.S. is looking into the fate of a Saudi writer missing and feared murdered but expressed reservations over calls to withhold further U.S. arms sales to Saudi Arabia, warning that such a move "would be hurting us."
Decades of close U.S.-Saudi relations, which have only intensified under Trump, appeared in jeopardy by the suggestion of a carefully plotted murder of a government critic, Jamal Khashoggi, 59, who disappeared a week ago after entering a Saudi consulate in Turkey. The wealthy former government insider had been living in the United States in self-imposed exile.
In an interview Wednesday with "Fox News @ Night," Trump said he wanted to find out what happened to Khashoggi but appeared reluctant to consider blocking arms sales, citing economic reasons.
"I think that would be hurting us," Trump said. "We have jobs, we have a lot of things happening in this country. We have a country that's doing probably better economically than it's ever done before."
He continued: "Part of that is what we're doing with our defense systems and everybody's wanting them. And frankly I think that that would be a very, very tough pill to swallow for our country. I mean, you're affecting us and, you know, they're always quick to jump that way."
On his first international trip as president, Trump visited Saudi Arabia and announced $110 billion in proposed arms sales. The administration also relies on Saudi support for its Middle East agenda to counter Iranian influence, fight extremism and support an expected peace plan between Israel and the Palestinians.
RIYADH NOT 'GIVING A CLEAR EXPLANATION' ON MISSING JOURNALIST KHASHOGGI
Saudi authorities have yet to give a clear explanation on the fate of Khashoggi as several countries -- particularly Turkey, the U.S. and the UK -- press for clarification.
According to his fiancée Hatice Cengiz, Khashoggi first arrived at the Saudi Consulate in Istanbul on Sept. 28. After being told his documents would be ready in a week, Khashoggi went to London and returned to Istanbul on Oct. 1.
Khashoggi called the consulate and was told "that documents are being prepared" and he could come to the consulate. He went to the diplomatic building on Oct. 2 with Cengiz but was not seen after entering it.
On the same day, 15 Saudis, including several officials, arrived in Istanbul on two planes and visited the consulate while Khashoggi was also inside, police sources said.