Erdoğan says will consider referendum on Turkey's EU bid
WORLD
Anadolu Agency & Reuters
Published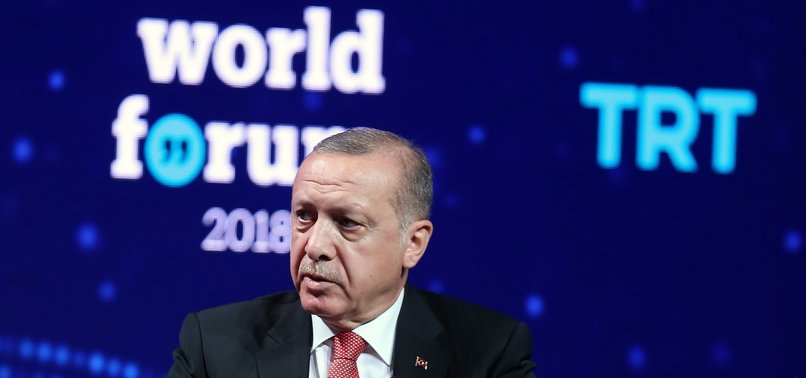 Speaking at an international forum in Istanbul on Thursday, Erdogan said Turkey and the EU had a lot to contribute to each other. But he criticized the 28-nation bloc for keeping Turkey waiting at its gates. Erdoğan said: "But if this goes on like this, with this mentality . This is a headline for tomorrow's papers . Our duty is probably to go to the 81 million (people in Turkey) and see what the 81 million decide."
President Recep Tayyip Erdoğan said on Thursday he would consider putting Turkey's long-stalled bid to join the European Union to a referendum, signalling exasperation with a process he says has been waylaid by prejudice against Muslims.
A direct vote on whether to continue Turkey's candidacy for EU membership could potentially end Ankara's negotiations for accession, which formally began in 2005, and increase its distance from the West.
EU countries, particularly Germany, have been critical of Turkey in the aftermath of an attempted coup in 2016. Erdoğan has fumed over what he sees as a lack of support from the West.
"It is 2018 and they (the EU) are still keeping us waiting," Erdoğan said at a forum in Istanbul. "It is for us to go to 81 million people and see what decision the 81 million people give," he said, referring to Turkey's electorate.
He said that if the decision to hold a referendum were taken, measures could be taken "immediately".
"Let's put it on the table with colleagues and discuss it as party chairman and after that, the moment one has said 'ok' we will immediately take our step," he said.
"There are European countries where they squeeze two or three referendums into one year. Actually, one has to get used to referendums."
Erdoğan has long accused EU member states of harbouring anti-Muslim sentiment, saying that the bloc is uneasy at the prospect of having a majority Muslim country as a member.
After Turkey's accession talks began in 2005, they stalled in 2007 due to objections from the Greek Cypriot administration on the divided island of Cyprus, as well as opposition from Germany and France.
In recent years, referendums have given Turkish voters a say on such weighty issues as direct election of the president and changing Turkey's government system.
To gain EU membership, Turkey must successfully conclude negotiations on 35 policy chapters that involve reforms and the adoption of European standards.
As of May 2016, a total of 16 chapters had been opened and one concluded. However, in December 2016, the member states said no new chapters would be opened.
In his speech, the president also accused the U.S. of sending 19,000 truckloads of weapons and ammunition to terrorist groups in Syria.
Turkey has repeatedly objected to U.S. support for the terrorist PKK/PYD as a "reliable ally" in Syria, which has included supplying arms and equipment.