Pakistani president hails 'strong ties' with Turkey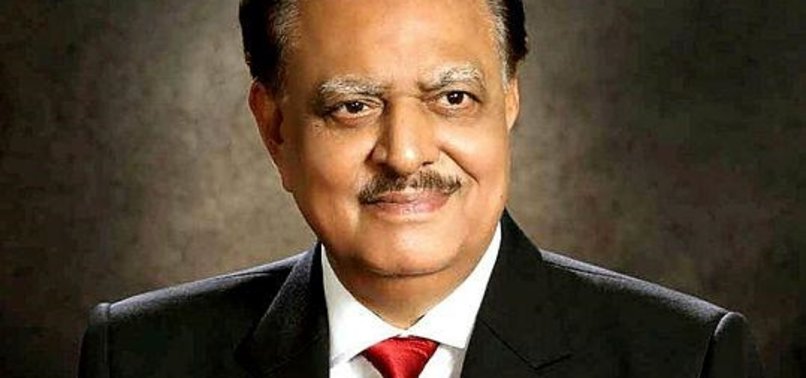 Pakistani President Mamnoon Hussain hailed the "strong" bilateral relations with Turkey, saying they will not be affected by any changes in the political system.
In a special interview with Anadolu Agency, Hussain said: "The relations between Turkey and Pakistan […] cannot be described in words. It is a very special type of relationship between our two nations."
Hussain arrived in Ankara to attend the inauguration ceremony of President Recep Tayyip Erdoğan.
"These relations are based on heritage, culture, religion and they are very strong bonds. I think that with the passing of time, these relations will grow."
During his interview, Hussain congratulated Erdoğan, calling him "a brother".
"I hope and I pray for the prosperity and welfare of the Turkish nation and the future," he said.
The June 24 vote marked Turkey's transition to an executive presidential system of government, doing away with the prime minister's post, among other changes.
Erdogan won an absolute majority in the presidential election with 52.5 percent of the vote, according to Turkey's Supreme Election Council (YSK).
Hussain said: "I think they [the relations] don't change with the changes in the political system and other changes […] anywhere on the globe."
"The relations between our two countries are on very strong bonds. It doesn't matter what happens in the world and what changes there are," he added.
The Pakistani leader also expressed hopes that relations in politics, defense, education and trade sectors would further improve.
"I hope that, in the future, we will be enhancing trade relations because this is very important. Turkey is a very important country of this region, doing very good in the economics field. We would like to have exchanges of our products with the Turkish products."

- Defense cooperation
Referring to Turkey's recent move to sell corvette ships to Pakistan, he said: "It is a remarkable thing that we are getting this equipment [corvette ships] from Turkey. Turkey and Pakistan have been doing these things for a very long time."
Defense Minister Nurettin Canikli said on Thursday that Turkey would sell four corvette ships to Pakistan Navy after winning a tender.
Hussain said Turkey and Pakistan would be very close to each other and cooperate in different sectors.
A bilateral dialogue group was established in 2003 to suggest policies and unfolding plans for defense collaboration between the two countries.
In 2016, Turkey had gifted 34 T-37 aircraft and their spare parts to Pakistan.
- TIKA's activities
In his remarks, the Pakistani president also praised Turkish Cooperation and Coordination Agency (TIKA)'s operation in his country.
He said: "TIKA was very active in providing help to the affected people in Pakistan [during earthquakes and floods]. TIKA has established many schools in Pakistan and one hospital has also been established by TIKA."
He continued: "TIKA is doing a wonderful job to help our Pakistani people wherever something is needed."

- SCO membership
Pakistan would welcome Turkey with joy if it becomes a member of Shanghai Cooperation Organization (SCO), Hussain said.
"I think the organization will get the benefit when Turkey becomes a member of SCO […]. Strategically, I think Turkey will be helping the SCO in a very nice way."
The SCO is a Eurasian political, economic, and security organization established in 2001. Originally it included Russia, China, Kazakhstan, Kyrgyzstan, Tajikistan, and Uzbekistan.
Last year, India and Pakistan joined the organization. Besides, Iran and Afghanistan currently have observer status in the SCO.