Death toll reaches 109 due to landslides, flooding in Japan
WORLD
Compiled from news agencies
Published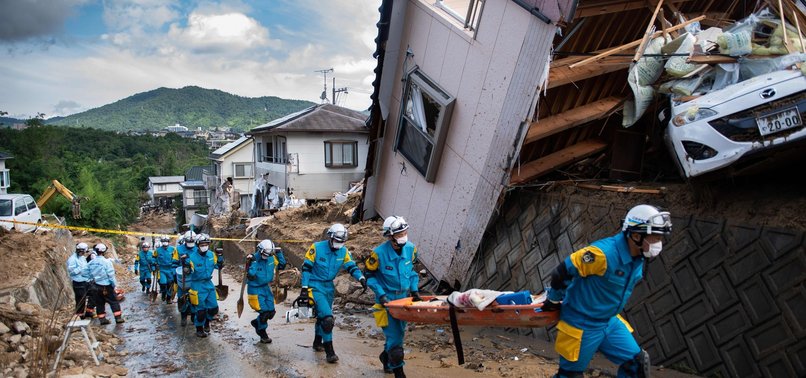 Japanese government on Monday said at least 109 were dead or presumed dead after heavy rains which began on Thursday in western Japan.
The death toll reached 109 in Japan on Monday after torrential rains triggered flooding and landslides, authorities said.
Search and rescue operations intensified in disaster-stricken western Japan, with dozens still unaccounted for since heavy rains began on Thursday.
Seven people were found dead Monday morning in submerged residential areas in the western city of Kurashiki, Kyodo News reported.
The city has become one of the hardest-hit areas, with more than 1,000 people temporarily trapped, including some on the roofs of buildings inundated by floods following the bursting of three dikes on a nearby river, Kyodo said.
In the prefecture of Hiroshima, which was hit the hardest by landslides, at least 39 people were confirmed dead and 40 others still missing, broadcaster NHK reported.
A seasonal front which stalled over Japan pulled moisture from the ocean and dumped record rain over wide areas of the country's west, according to the Meteorological Agency.
Heavy rains caused flooding and landslides which swept away homes, bridges and vehicles and cut off roads.
TV footage showed submerged homes in residential areas, collapsed houses and overturned cars.
A total of 54,000 rescuers, including soldiers and police officers, have been mobilized to search for trapped, injured and dead people, government spokesman Yoshihide Suga told a news conference Sunday.