Dublin mayor calls for expulsion of Israeli envoy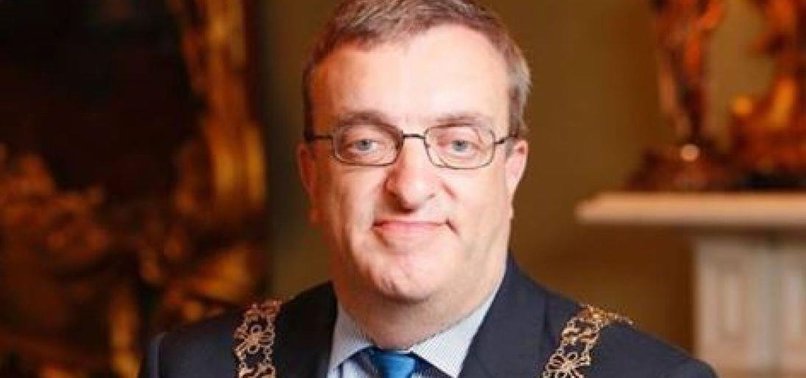 Dublin's mayor has urged the Irish government to expel Israel's ambassador in the wake of Israeli security forces in Gaza martyring more than 60 unarmed Palestinian protesters, local media reported Thursday.
"I think there is tremendous sympathy among the people of Dublin for the people of Palestine and also a lot of anger, deep anger, at the actions of the Israeli government," Micheal Mac Donncha said at a ceremony on Wednesday for the martyred Palestinians, joined by Palestinian Ambassador Ahmad Abdelrazek.
Asked whether Israel's ambassador should be expelled from Dublin, he said: "I think it has come to that and that is the position of the city council."
Members of the public began to stream into Mansion House to sign the book of condolences after it was opened at midday on Wednesday.
Abdelrazek said he felt the "solidarity and sympathy" of the Irish people.
"I will always appreciate that. This time you can measure how the Irish people are outraged," he said.
-SUPPORTING CALLS TO BOYCOTT ISRAEL EUROVISION
Meanwhile, calls for a boycott of next year's Eurovision Song Contest, set to be held in Israel, found prominent new supporters in Ireland, according to local media reports.
Mac Donncha urged a boycott on Sunday, after Israel won this year's contest and on the eve of the opening of the U.S. Embassy in Jerusalem.
TV host Mike Murphy and Eurovision winner Charlie McGettigan joined the mayor's calls for Ireland to boycott next year's contest.
"I think this is an opportunity now where boycott comes right into it, and this is where we need to stand up and be counted and say 'we are not competing'," Murphy said.
McGettigan, one of the Eurovision winners for Ireland in 1994, said Ireland should boycott the event if it is not held in another country or cancelled, according to the Irish Mirror.
He told RTE Radio One: "It was dreadful seeing [Israel's Prime Minister Benjamin] Netanyahu and the Trumps celebrating while people are dead."
"It's a chance for the whole of Europe who are involved in Eurovision to say, 'Look, we don't agree with this'."
Monday's protests in Gaza coincided with Israel's 70th anniversary -- an event Palestinians refer to as Nakba or the Catastrophe -- and the relocation of the U.S. Embassy to Israel from Tel Aviv to Jerusalem.
Since the mass Gaza rallies began on March 30, more than 100 Palestinian protesters have been martyred by cross-border Israeli army gunfire.
Last week, the Israeli government claimed the ongoing border protests constitute a "state of war" in which international humanitarian law does not apply.