UN denies watchdog OPCW team lacks Douma authorizations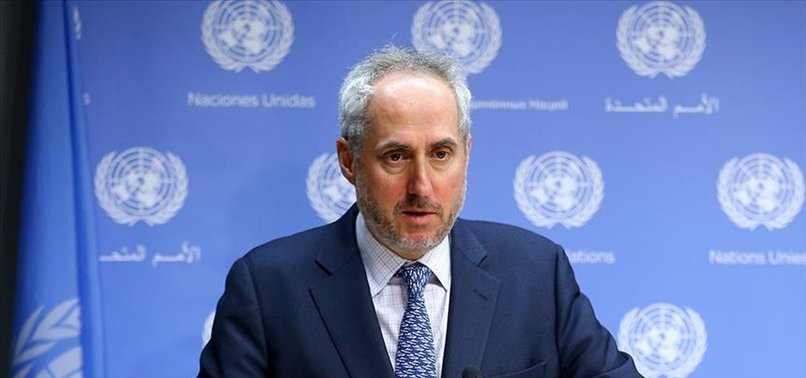 A team of investigators seeking to determine whether a chemical attack took place outside of Damascus has all the necessary authorizations it needs from the UN, the international body said Monday.
The comments follow reported claims by a senior Russian diplomat that the Organization for the Prohibition of Chemical Weapons (OPCW) team lacks the proper UN permit to access the site where activists say dozens of people were killed and hundreds of others injured in a chemical attack by the Assad regime.
UN spokesman Stephane Dujarric told reporters at the UN's New York headquarters the OPCW's fact-finding mission has all the "necessary clearances" to access the site in the Eastern Ghouta city of Douma.
"We have not denied the team any request for it to go to Douma," Dujarric said, stressing the investigation is being run solely by the organization.
The suspected chemical attack took place on April 7, and the OPCW team arrived in Syria on Saturday but has yet to commence its inquiry.
OPCW Director General Ahmet Uzumcu told the organization's executive board the team of nine volunteer inspectors was told by regime and Russian officials it could not access the site due to "pending security issues to be worked out before any deployment".
The officials offered the OPCW team 22 witnesses to interview in the interim, Uzumcu said. The interviews were offered to take place in Damascus, he said while urging the importance of getting the team to the suspected attack site at the earliest date possible.
"I hope that all necessary arrangements will be made through the UNDSS to allow the team to deploy to Douma as soon as possible," he said.
Dujarric voiced the UN's support for the mission, and said the world body work wants to see it begin its work as soon as possible.
The U.S., UK and France jointly launched strikes Friday night targeting the Assad regime's chemical weapons capabilities in retaliation for the suspected chemical attack.
The strikes targeted the Assad regime's chemical weapons research center near Damascus, a chemical weapons warehouse and a command center related to chemical weapons located west of Homs, U.S. Joint Chiefs of Staff Chairman Joseph Dunford said.