'Tillerson's Africa visit sign of improving relations'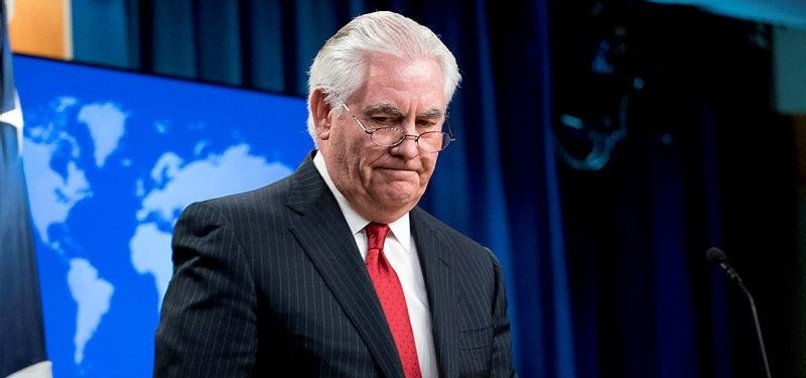 The just-concluded weeklong visit by the U.S. secretary of state to five African countries implies President Donald Trump's administration is improving relations with Africa, according to a leading analyst.
"The trajectory that had not been looking good has improved," Brooks Spector, a former US diplomat who served in Africa and Asia, told Anadolu Agency Tuesday, before news that Rex Tillerson had been dismissed from the secretary of state post, due to be replaced by CIA Director Mike Pompeo.
How the change at the State Department helm will affect U.S.-African relations is not yet known.
Brooks said the Trump administration had expressed lesser interest in Africa, for example by not appointing an ambassador to South Africa, the continent's most advanced economy.
He also observed Trump's recent vulgar comments about the continent were hurtful, but said he hoped Tillerson's visit would improve relations.
During his visit on March 6-13, Tillerson travelled to Kenya, Ethiopia, Chad, Nigeria, and the small Horn of African nation of Djibouti.
Slams China
While in Ethiopia, Tillerson criticized China's economic engagement in Africa, saying their loans and investments encouraged dependency, utilized corrupt deals, and endangered the continent's natural resources.
"It is important that African countries carefully consider the terms of those agreements [with China] and not forfeit their sovereignty," he told a news conference in the capital Addis Ababa.
He said the U.S. is not "in any way attempting to keep Chinese investment dollars out of Africa," calling them badly needed.
"However, the U.S. thinks it's important that African countries carefully consider the terms of those investments."
China, Africa's largest trading partner, has built several roads and railway networks and extended loans to governments on the continent for infrastructure development.
Despite its human rights track record, China continues to maintain good relations with most countries on the continent. Activists in some democratic nations like South Africa have questioned their country's relationship with China, saying Beijing oppresses dissident voices.
Spector says Tillerson's statement on China was meant to remind African countries that there is credit available in places other than China.
"The world is in a very competitive position for not only resources, but borrowing and interests are [also] low,'' he said.
Tillerson said the U.S. commitment to Africa is clear in terms of the importance they place on the relationship.
"The president himself wrote a personal letter to the [African Union] chairperson, reaffirming the importance of this relationship," he said, brushing off critics who claim the Trump administration has little interest in the continent.
Before traveling to Africa, Tillerson announced that the U.S. will offer more than $533 million in humanitarian aid for victims of conflicts and drought in Ethiopia, Somalia, South Sudan, and Western and Central African countries.
Security
On the final leg of his visit to Chad and Nigeria, Tillerson focused on the terrorism issue. He also hinted at the possibility of Chad being removed from the list of countries facing a U.S. travel ban.
"With respect to the travel ban, we had a very good exchange between President [Idriss] Deby and myself, and first I wanted to ensure that the people of Chad understand they are welcome in the United States," he said.
Tillerson said Chad had taken important positive steps to strengthen control over its own passports and boost information-sharing about people of concern, such as potential terrorists.
"And these steps, I think, are going to allow us to take actions to begin to normalize the travel relationship with Chad," he said.
Last year, Trump added Chad to a list of African countries whose citizens are banned from traveling to the U.S. over security concerns.
While in Nigeria, Tillerson said the U.S. will equip, train, and provide information to help secure the release of over 100 Nigerian schoolgirls recently abducted by terrorist group Boko Haram.
"I think that's the best way we can help the government of Nigeria secure the release of these girls, which we hope will be done in a peaceful manner."