Turkey sends note to Germany over PYD/PKK violence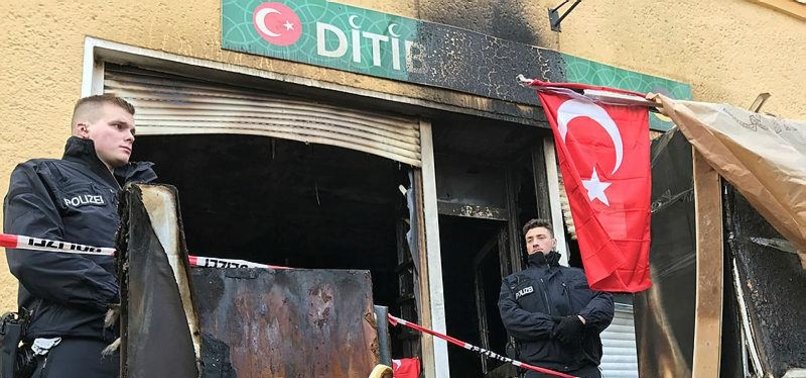 Turkey has sent Germany a diplomatic note over the recent upsurge of attacks targeting Turkish mosques and cultural associations.
"Today, our Foreign Ministry summoned Germany's ambassador to Ankara. The necessary warning was conveyed to him and a note was sent," Deputy Prime Minister and government spokesman Bekir Bozdağ said after a Cabinet meeting in Ankara.
He added that Turkey would continue to closely monitor developments in Germany.
Bozdağ also called on German authorities to take "immediate" action against the terrorist attacks targeting the Turkish community.
"The German government and its security forces have primary responsibility for the safety of Turkish citizens and other Muslims living in Germany," he added.
At least two mosques and a culture association have been firebombed since Friday, after the PYD/PKK terrorist group threatened to carry out more violence against Turkish institutions in Germany.
The PYD/PKK's youth organization recently threatened to carry out more violent attacks against Turkish institutions and associations in Germany, to protest Turkey's ongoing counter-terrorism operation in northwestern Syria.
On recent Turkish drone footage showing YPG/PKK terrorists forcibly blocking Syrian civilians from leaving the Afrin area, Bozdağ said the footage "clearly" demonstrates that Turkey is right about the terrorists in Afrin.
The drone footage shows the terrorists using force to block Afrin's Syrian residents from leaving the district, even to the point of using gunfire.
The civilians, seeking to flee to avoid being used as human shields, are shown being stopped from leaving the city center by YPG/PKK terrorists at checkpoints.
Underlining that Turkey's fight against terror groups is not limited to the operation in Afrin, Bozdağ said Turkey and Iraq plan a joint operation against the PKK starting this May to eliminate the terror group in Iraq.
"Negotiations with Iraq's government were positive. The Iraqi government reached a consensus with Turkey against the terror group," Bozdağ said.
A total of 3,381 terrorists have been "neutralized" since the launch of Operation Olive Branch in Afrin, Syria, Bozdağ also said.
Ankara launched Operation Olive Branch on Jan. 20 to clear terrorist groups from Afrin in northwestern Syria amid growing threats posed from the region to Turkey.
On the first meetings last week of three Turkish-U.S. technical committees to mend ties, Bozdağ said: "Turkey once more openly conveyed its expectations from the U.S. during the meeting in Washington."
He also confirmed Foreign Minister Mevlüt Çavuşoğlu's March 19 visit to Washington to discuss the results of the meetings to date.
On the trilateral summit of leaders from Turkey, Russia, and Iran set for Istanbul, Bozdağ confirmed the date as April 4 and added that a strategic partnership meeting between Turkey and Russia is to be held on April 3.