PYD/PKK supporters cause rail services disruption in London, Manchester
WORLD
Agencies and A News
Published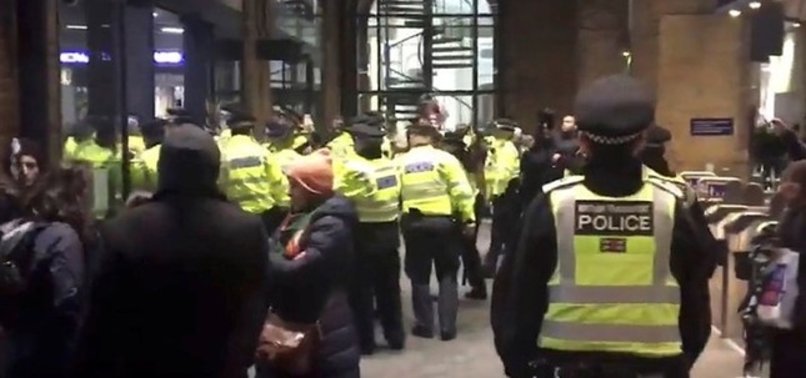 All outbound train services came to a stand still in Manchester Picadilly Station on Sunday due to a protest staged by the sympathizers of the terrorist organization PYD/PKK.
Around 100 protesters holding the so-called flags of the terrorist group invaded one of the two biggest stations in Manchester before moving onto tracks.
Shouting anti-Turkish slogans, the group also carried the posters of the jailed PKK head Abdullah Ocalan.
All outbound trains have been disrupted due to track invasion and some services had to be cancelled later.
"A trespass incident at Manchester Piccadilly is causing disruption to trains at the stations," a statement on the train operators National Rail website said.
"Trains may be amended, cancelled or delayed," it warned passengers.
The station remained closed for about three hours.
"Those involved in this afternoon's incident will be subject to intense investigation with a view to arrest and prosecution," Mark Cleland, from British Transport Police said.
"We will continue to maintain a police presence at this station and at other stations across the rail network," he added.
Meanwhile, many passengers reacted on social media platforms to the protest targeting Manchester Picadilly Station.
The train services in Stockport and Leeds were also affected due to the protest.
London King's Cross Station
A group of PYD/PKK sympathizers tried to block all entrances and exits at London's King's Cross Station Sunday evening too.
The National Rail said there was only one exit currently functioning at the station as police were addressing the chaos caused by the protesters.
Another operator Virgin Trains said the "station remains closed due to protesters. We are in the process of contacting trains already on the move individually."
"Officers dealt with a number of protesters at #KingsCross with help from @metpoliceUK protestors were prevented from accessing the tracks," a British Transport Police statement said.
The group also waving the proscribed PKK symbols closed the three lanes of traffic in front of the station, causing traffic jam at a busy junction.
The station was reopened after police intervention and minor clashes with the group, according to the reports.
Although the U.K. has listed the PKK as a terrorist organization since 2001, the PYD/PKK -- its Syrian off-shoot -- is not on the list.
A report by Henry Jackson Society last year urged British government to add the PYD/PKK on a list of terror organizations.
In its 30-year terrorist campaign against Turkey, the PKK has taken some 40,000 lives, including those of women and children.